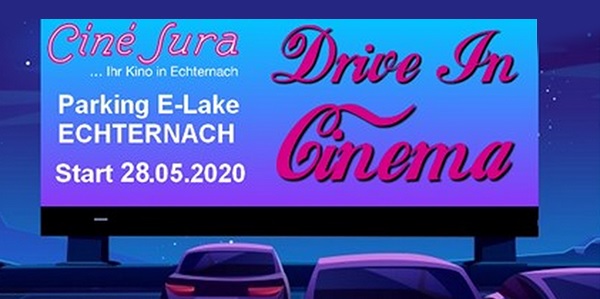 Ciné Sura in Echternach has announced details of its annual open-air cinema season for 2020: this year it will take the format of a drive-in cinema and will take place from 28 May until 13 June 2020 at the e-Lake car-park at Echternack lake (beside the youth hostel).
Evening screenings will be at 21:00 each day (all in German, except one in Luxembourgish), with the programme also seeing two non-cinema events, a car disco on 5 June and a live open-air concert by Steven Pitman on 13 June.
Programme:
- Thu 28 May: Bad Boys 3 (DE)
- Fri 29 May: Kanguru Chroniken (DE)
- Sat 30 May: Onward - Keine Halben Sachen (DE)
- Sun 31 May: Nightlife (DE)
- Mon 01 Jun: Birds of Prey (DE)
- Tue 02 Jun: Narziss und Golmund (DE)
- Wed 03 Jun: Bad Boys 3 (DE)
- Thu 04 Jun: Opce Upon a Time in Hollywood (DE)
- Fri 05 Jun: Autoclub, the 1st auto-Disco in Luxembourg
- Sat 06 Jun: Der Konig der Lowen (DE)
- Sun 07 Jun: Joker (DE)
- Sun 08 Jun: Kanguru Chroniken (DE)
- Mon 09 Jun: Nightlife (DE)
- Tue 10 Jun: Dr. Dolittle (DE)
- Wed 11 Jun: Enkel fur Anfanger (DE)
- Thu 12 Jun: Sonic (DE)
- Fri 13 Jun: Elvis Concert with Steven Pitman
- Sat 14 Jun: Superjemp (LU)
Ticket pre-sales have started - see www.ticket-regional.lu/?lang=en (purchased tickets will result in a QR code which will be scanned through a closed car window). €28 for a family (2 adults, 2 children); €9/student; €8/child
Maximum capacity per vehicle is two adults, plus children). Guests are asked to leave their cars only in emergency situations or to go to the toilet (available on site).
Snack packages are available, including drinks, Bacon Cheeseburger (€10), Penne Bolognese (€10), Thai Tofu Curry (€15). Pre-ordered food and drinks can be collected from a drive-through service area.
All payments using contactless cards.
For further details, see www.cinesura.lu.