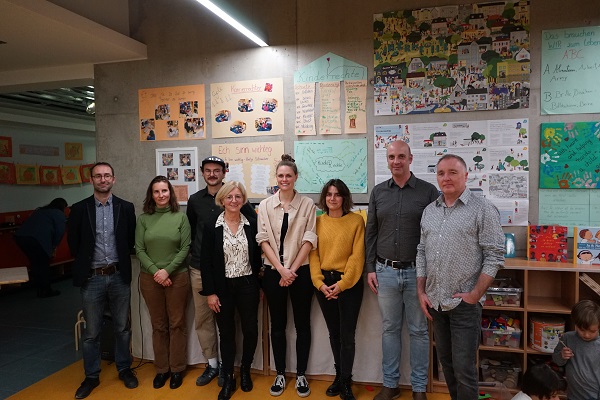 (L-R) Alderman Frazer Alexander; Julie Bouchat, Fondation André Losch; Fränz Reuter, LOFT Lorentzweiler; Mayor Marguy Kirsch-Hirtt; Lisa Goergen, LOFT Lorentzweiler; Patricia Tompers & Cliff Hever, Red Cross Maisons Relais & Crèches; alderman Paul Bach; Credit: Luxembourg Red Cross
The Luxembourg Red Cross has reported that the "local family meeting place" (lokale Familljentreff - LOFT) in Lorentzweiler recently celebrated its first anniversary.
The LOFT in Lorentzweiler, an initiative of the Luxembourg Red Cross in collaboration with the municipality, celebrated its one-year anniversary on Friday 17 November 2023.
This meeting point offers families of school-aged children the opportunity to network, find support and spend time together. According to the Luxembourg Red Cross, since its official launch on 18 November 2022, the LOFT in Lorentzweiler has developed into an important contact point for families in the community. In addition to serving as a meeting place, it offers educational programmes that aim to support families in various areas such as parenting or education. LOFT also serves as a point of contact for parents seeking advice in difficult situations or to direct them to local support resources.
Activities offered range from informative parents' evenings to various leisure activities with children. LOFT is open to all families, regardless of whether a child is enrolled in the "Maison Relais" (child-minding service) or crèche in the municipality.
"We are very satisfied because we were able to establish our local family meeting point as a contact point here in the community. We receive a lot of encouragement from families. Many parents are now involved with us so that we can further develop the project together with them," said Lisa Goergen, coordinator of the LOFT in Lorentzweiler. In the future, she wants to increasingly reach out to parents of older primary school children and get them involved, as well as expand cooperation with local and national actors.
The municipality of Lorentzweiler finances half of the costs associated with the LOFT Lorentzweiler, while the Fondation André Losch finances the other half. In addition to this meeting place, which is located in the Maison Relais building, the Luxembourg Red Cross runs another LOFT in Stadtbredimus. A third LOFT will soon open its doors in Strassen.
To celebrate the first anniversary of the LOFT in Lorentzweiler, the "LOFT & Léift" event took place on 17 November, in the presence of Lorentzweiler Mayor Marguy Kirsch-Hirtt and aldermen Paul Bach and Frazer Alexander. The LOFT organised the event together with the Maison Relais and the crèche, as well as the community and some parents.
The opening hours of the LOFT in Lorentzweiler are: Tuesdays from 14:00 to 18:00, Wednesdays from 08:00 to 12:00 and Thursdays from 14:00 to 18:00.