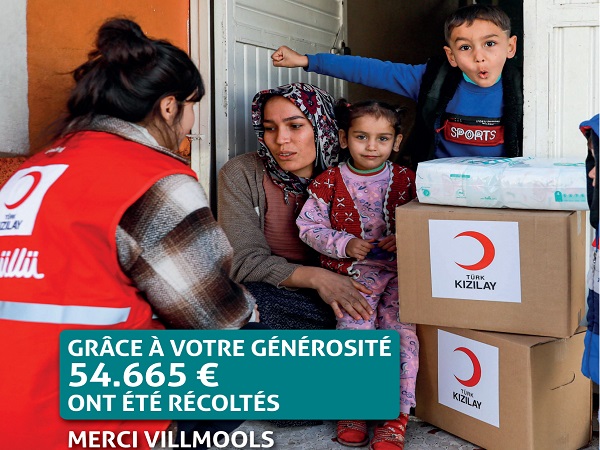 Luxembourg Red Cross / Cactus;
Cactus has announced that its recent supermarket appeal for solidarity with victims of the earthquakes in Turkey and Syria yielded a total of €54,665 in donations for the Luxembourg Red Cross.
Following the earthquakes that killed tens of thousands of people in Turkey and Syria on 6 February 2023, the International Red Cross and Red Crescent Movement mobilised to provide emergency aid on site via local branches. In collaboration with the Luxembourg Red Cross, Cactus launched an emergency fundraising campaign to support the victims of this devastating event.
From 9 February to 5 March 2023, Cactus customers could make a donation or donate their Cactus customer card loyalty points at the till (either €10 or 1,000 points, or €25 or 2,500 points), in order to provide victims with equipment such as kitchen kits or hygiene products for basic needs. This initiative raised €29,665, to which the management of the Cactus family business had decided from the outset to add €25,000, to finance 25 family tents for the winter. In total, Cactus donated €54,665 to the Luxembourg Red Cross.
The Luxembourg Red Cross and Cactus expressed their gratitude to everyone who showed support for the earthquake victims.