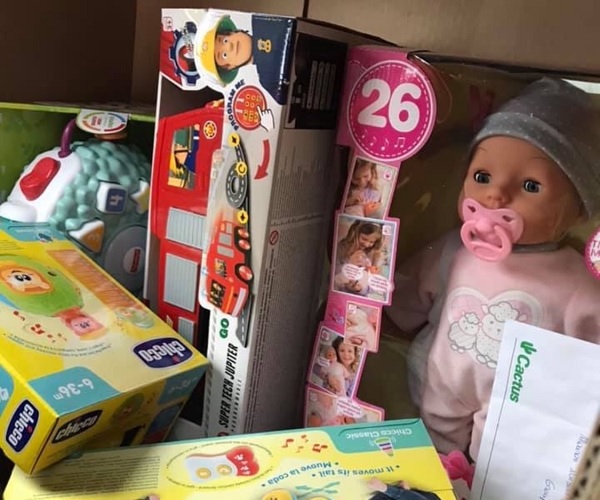 The American Women's Club of Luxembourg (AWCL) is in its 26th year making the winter holidays a little happier for children across Luxembourg through their annual Gifts for Kids programme; since 1996, the AWCL has been organising Gifts for Kids, a volunteer-run, community-driven charitable initiative to bring holiday presents to children living in Luxembourg's residential foyers.
The project is a long-time favourite of many AWCL members. "Each year we have an army of volunteers from our membership to make sure this project goes smoothly," said Brandy Bishop, AWCL President. "From coordinating the logistics and communicating with our partners to delivering the gifts, every part of this project is volunteer-run. Our members participate because they know what a difference it can make for children in difficult situations to have a gift that is just for them."
"We are working with 84 foyers this year and more than 1,200 gifts were requested. These gifts will be delivered directly to participating foyers for children who may not otherwise receive a present this holiday season," said Jennifer Parsons, co-director of the project. "Each year, the AWCL tries to reach more children in Luxembourg. Unfortunately, due to recent global events, demand for our programme has increased. The number of children in Luxembourg who could benefit from the programme continues to grow so we need to grow as well. In order to do this we must increase the funds we raise to meet the growing demand in Luxembourg."
"Our programme relies on individual donations and more than 26 partners throughout Luxembourg to help collect funds for the gifts," Liz Dudek, the project's other co-director, explained. "Partner companies and schools place decorated Christmas trees in prominent locations in their buildings. Each ornament features a QR code to make donating quick and easy for those who want to contribute. With the money collected, children in the foyers are provided with a pre-selected gift purchased from Cactus at Belle Etoile, a longtime partner of Gifts for Kids." The AWCL then arranges the purchase and delivery of the presents to the foyers to make sure the children have a happy Saint Nicholas Day and Christmas.

To make it a personal and even more special experience for the children, the students at St. George's International School, one of project's partners, make handmade cards to accompany each gift that is delivered.

For more information on how to become a sponsor or how to donate, the Gifts for Kids website at www.awclux.com/giftsforkids has details.