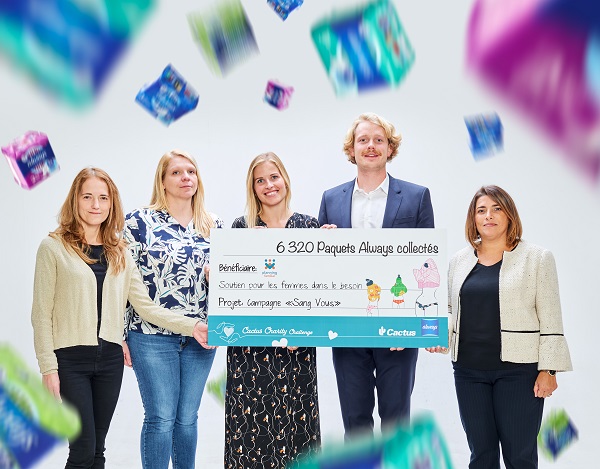 L-R: Jeanne Dos Santos, Planning Familial; Emilie Kaiser, Planning Familial; Jill Deiijgers, Procter & Gamble; Jean Van Marcke, Procter & Gamble; Maguy Carvalhal, Cactus; Credit: Cactus
Luxembourg supermarket chain Cactus and menstrual hygiene company Always have donated 6,320 boxes of sanitary pads to women in need in the Grand Duchy.
Cactus and Always have joined forces once again to support the "Sang Vous" campaign of Planning Familial aimed at collecting feminine hygiene products for women affected by period poverty.
From 16 to 28 August 2022, the partners launched the "Buy 2, get 1 free" action and committed to donating a box of Always sanitary pads to Planning Familial for each purchase of a duo pack from the Always range by Cactus customers.
According to Amnesty International, more than 500 million women in the world do not have access to effective sanitary protection to cope with their periods. For the management of Planning Familial, "not giving women access to menstrual hygiene means depriving them of their right of access to health. In Luxembourg, women are not spared, and almost a quarter of the population is affected by precariousness. Faced with this sad observation, Luxembourg's Planning Familial wanted to take action by launching the 'Sang vous' campaign, consisting of collecting sanitary pads and tampons to distribute to people in precarious situations".
The initiative proved successful, with Cactus and Always ultimately providing some 6,320 boxes to Planning Familial. The products collected will be distributed free of charge to women in need, not only by the Planning Familial centres but also by reception structures for people in precarious situations.