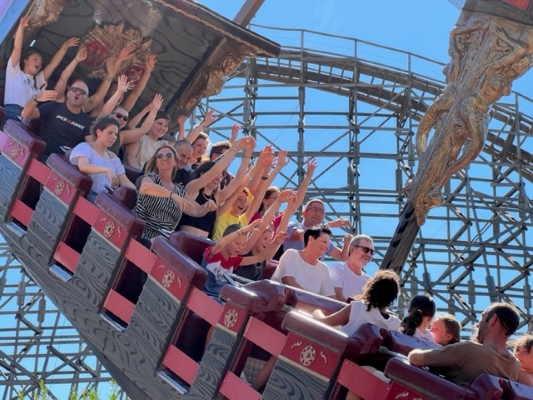 Credit: Stëmm vun der Strooss
On Friday 12 August 2022, local non-profit organisation Stëmm vun der Strooss organised a visit to the Walibi theme park in Havre, Belgium for the beneficiaries of the social restaurants of Hollerich, Esch-sur-Alzette and Ettelbruck and for the people who work there in the framework of socio-professional reintegration.
68 people and thirteen employees and volunteers from Stëmm participated in the trip to Belgium while the site manager of the Stëmm vun der Strooss in Esch-sur-Alzette, Francesco Settanni, organised an excursion to the Walygator activity park near Metz. Around 60 people took part in this trip. Mr Settani, who is also responsible for the settlement of Stëmm in Ettelbruck, where a social restaurant will be opened in autumn, also had about 30 people from Ettelbruck come by bus to take part and spend a nice day together with the Stëmm staff.
The social restaurants were exceptionally closed that day, but the beneficiaries were able to have lunch in Hollerich on Saturday and in Esch-sur-Alzette on Sunday.
These outings every year are possible thanks to the support of private individuals and companies, and the commitment of the association's staff.