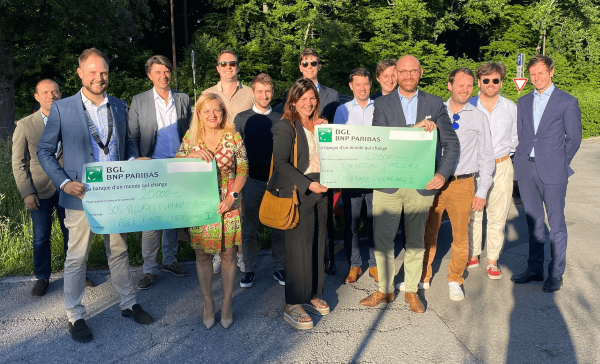 Credit: SOS Villages d'Enfants Monde
On Wednesday 29 June 2022, the Table Ronde 1 Luxembourg-Ville, which since 1962 has brought together responsible, generous and committed young men from diverse backgrounds, presented SOS Villages d'Enfants Monde with a check for €20,000 for children and families in Ukraine and in the countries hosting refugees.
The proceeds of this donation was raised through a charity dinner organised in the Bernard Massard cellars marking the end of his mandate for President Antoine Clasen. With the support of each member of the Club, more than €40,000 was raised. The current president, Dr Jean-Philippe Becker, particularly thanked the former members of the Table Ronde 1 Luxembourg-Ville: "Contributing to the community is a value of the Round Table which remains anchored in all members. It is thanks to our many former members and their generosity that we were able to raise these funds for the Juniclair Foundation and for SOS Villages d'Enfants Monde, and we are very happy about it."
"We warmly thank the leaders and members of the Round Table 1 Luxembourg-Ville for their precious initiative and all those who participated in raising this generous sum for the families victim of the war in Ukraine. We will remain mobilised over the long term, whether in their country or in host countries, to help them recover," underlined Sophie Glesener.
By the end of May 2022, SOS Villages d'Enfants Monde had supported 32,500 direct and indirect beneficiaries in Ukraine and 2,150 in some fifteen host countries.