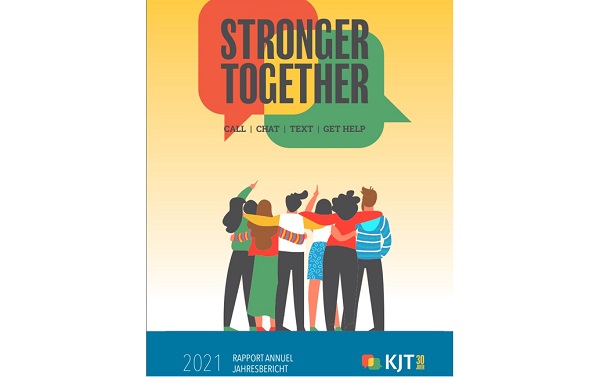 Credit: KJT
On the occasion of its 30th anniversary, and to mark International Child Helpline Day (17 May), KJT (Kanner-Jugendtelefon), the national helpline for children and young people in Luxembourg, has presented its 2021 annual report.
KJT has been a member of Child Helpline International (CHI) for many years. CHI works around the world to ensure that the voices of children and young people are heard and considered and that their rights are realised and protected. In order to implement this, hotlines for children and young people have been set up all over the world so that children and young people always have a contact point where they can find support, at any time, free of charge, anonymously and confidentially.
For 30 years, KJT has been supporting children and young people in Luxembourg through its services, which today include: the 116 111 Kanner-Jugendtelefon (children and youth) hotline, Online Help, a chat room, a parental hotline, a BEE SECURE Helpline and a BEE SECURE Stopline.
In 2021, a total of 1,747 people contacted the services of KJT; this represents an increase of 149 people compared to the previous year. The helpline reported increases across all of its services except its oldest service: the 116 111 hotline. In 2021, 430 people reached out to KJT via the 116 111 hotline. Online support, which had already received a third more inquiries in 2019, increased again in 2021, with 384 young people receiving advice here. 63 young people contacted the chat room, which only started in May 2020; the chat room is open on Tuesday evenings from 18:00 to 21:00. Moreover, 175 fathers, mothers and grandparents turned to the parents' hotline with their concerns and questions. The BEE SECURE Helpline also confirmed its upward trend, with 695 people asking for help - up from 473 people in 2020. KJT answered an additional 307 questions in writing.
According to KJT, these figures show that the long-lasting crisis caused by the COVID-19 pandemic has had an impact on the wellbeing of families, children and young people. The human psyche, especially that of children and young people, was challenged, which is reflected in fear, sadness, depression, helplessness and being overwhelmed, as the conversations and figures show.
An increase in discussions on the subject of ​​abuse and violence was also noticeable. In 2020, 74 young people contacted KJT about this, whilst in 2021, this had increased to 91 people seeking advice. A total of 106 young people contacted KJT about suicidal thoughts or attempted suicide. In this context, KJT has strongly encouraged young people to reach out to its services when they find themselves in a crisis.