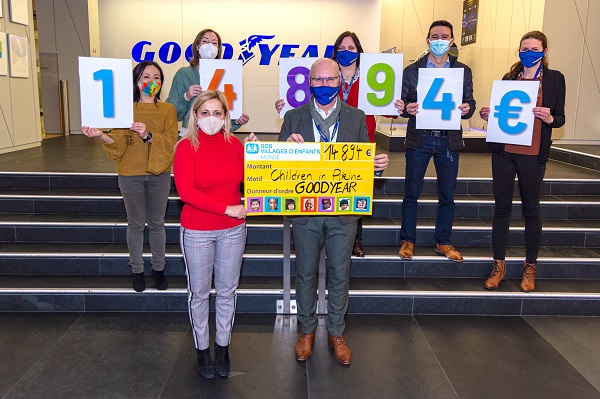 Credit: Goodyear
Goodyear has donated close to €15,000 to Luxembourg non-profit organisation SOS Villages d'Enfants Monde (SOSVEM); the sum will go towards supporting the children and communities of Pikine in Senegal.
On Wednesday 26 January 2022, representatives of the Goodyear Tire & Rubber Company and SOSVEM met at the Goodyear Innovation Center Luxembourg in Colmar-Berg for a charitable cheque handover of €14,894.
This donation will support more than 350 children in Pikine, Senegal. Initiated in 2017, this community programme for sustainable development consists in implementing concrete actions to allow children to develop in an environment that guarantees their protection while playing an active role in it. Goodyear has supported this project since 2020 and up until its completion at the end of 2021.
Every year for almost 20 years, Goodyear's Management and associates have been mobilising to support SOSVEM. The Associate Engagement Team raises funds for the non-profit through solidarity and fundraising actions. In 2021, several digital auctions took place with Goodyear's articles, supported by some partners and suppliers. The active participation of employees also enable the collection many donations.