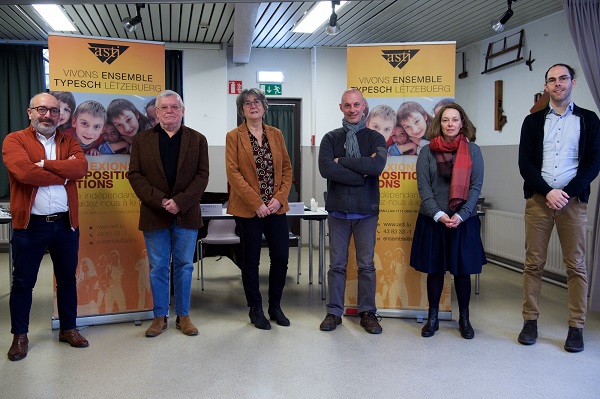 L-R: Sérgio Ferreira; Jean-Louis Schlesser; Laura Zuccoli; Evandro Cimetta; Claire Geier; Marc Piron (missing from photo: Sara Bolliri); Credit: Editpress / Fabrizio Pizzolante
ASTI, a non-profit organisation supporting migrant workers in Luxembourg, has announced the election of its new management team.
After more than twelve years as president, Laura Zuccoli has decided to hand over the reins to other committed members of the association.
On Monday 17 January 2022, ASTI's Board of Directors elected a new management team, made up of volunteers and employees, and approved a new governance model.
The new management team is composed as follows: Evandro Cimetta, President; Claire Geier, Vice President; Jean-Louis Schlesser, Secretary; Sara Bolliri, Treasurer; Sergio Ferreira, Political Director; Marc Piron, Project Director.
According to ASTI, these changes will have no effect on the association's commitment to everyone living, working and making decisions together in Luxembourg. This commitment can be broken down to three levels: at the field level, with projects that are intended to be innovative and effective in meeting the needs of Luxembourgish society; at the level of reflection, through the work of a "laboratory of ideas", whether at the level of working groups, discussions with members or participation in public discussion at the local, regional, national and European levels; at the level of advocacy and political lobbying, carried out in complete transparency, moving forward with proposals resulting from field work and reflection.
In view of the municipal and legislative elections which will take place in 2023, ASTI will carry out an in-depth reflection on the various aspects relating to living together, in order to present concrete proposals to political parties.