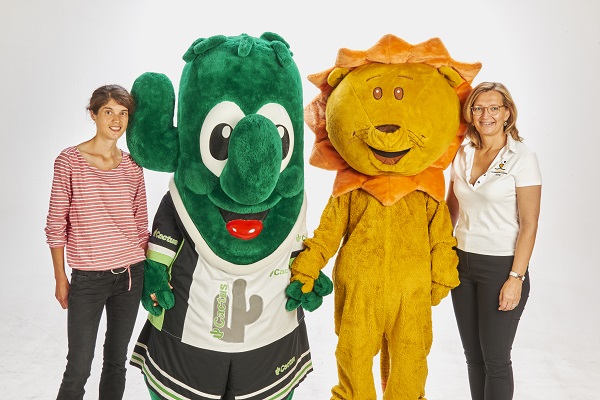 L-R: Liz Nepper, Cactus Marketing Department; Cactus mascot Yuppi; Fondatioun Kribbskrank Kanner mascot Poldi; Anne Goeres, Director of Fondatioun Kriibskrank Kanner.; Credit: Cactus
The fourth edition of the "Lëtz Go Gold" charity race, organised by Luxembourg non-profit organisation Fondation Kriibskrank Kanner, is set to take place in hybrid mode on Saturday 25 September 2021; the event will kick off near the ponds of the Kockelscheuer Ice Rink in the morning.
Each participant pledges to raise a minimum of €200 (€100 for minors and students under the age of 25) to fund research to find new cures for paediatric cancers, improve existing cures and learn more about the causes of this type of cancer.
Participants will be able to choose between four routes: 5 km or 10 km running, 5 km walking or a 1.5 km tour accessible to prams, wheelchairs and anyone else with reduced mobility.
A livestream will also allow participants to take part in remote connected mode while following the morning's programme.
None of the races are timed and the podiums will reward the participants who have collected the greatest amount of money either individually or as a team.
Last year, more than 550 participants were involved in the 3rd edition of Lëtz Go Gold; they managed to raise a record sum of €306,801.
To take part in the 4th edition of this solidarity event, register at www.letzgogold.lu/en/onboarding/letz-go-gold/join. Those who do not wish to take part in the race but would still like to support this cause can make a donation on the website www.letzgogold.lu (either send the donation to a participant you would like to support or simply to the Poldi mascot, who is also participating in the race and who represents the Fondatioun Kriibskrank Kanner's universal collection account).
Event Partners: Coplaning SA (Platinum); Carne Group, Elvinger Hoss, Foyer, Capital Group and Cactus (Gold); McDonalds (Silver); Entrapaulus, Delen Private Bank Luxembourg and an anonymous sponsor (Bronze).