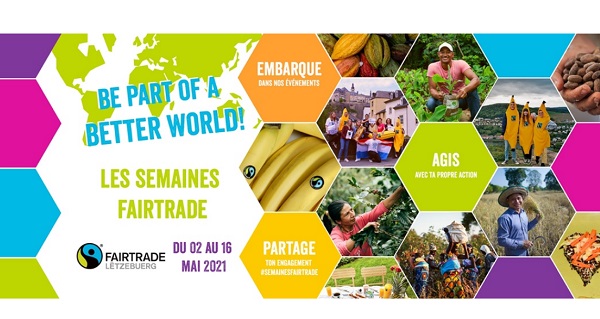 Credit: Fairtrade Lëtzebuerg
The non-profit organisation Fairtrade Lëtzebuerg has announced that it is organising a national fair trade awareness campaign from 2 to 16 May 2021.
Under the slogan "Be part of a better world", the Fairtrade Weeks bring together the actors involved around a common issue: accelerating citizen awareness and commitment in favour of responsible consumption patterns that respect human rights.
More than 40 partners have already responded favourably to this citizen mobilisation. These partners range from points of sale and caterers to nurseries, municipalities and secondary schools. Proposed activities include fair trade treasure hunts, fair trade menus and showcasing fair trade products on shop shelves, as well as exhibitions, awareness workshops and even a recipe competition.
Everyone can also participate by organising an activity with family or friends, be it a breakfast, a picnic or an after-work cocktail that combines the (re)discovery of fair trade products and displaying one's commitment to building a better world.
This year, Fairtrade Lëtzebuerg has developed a "Fairtrade Outdoor" calendar, where nature will be at the heart of the activities offered. Older children can go on a walk in Steinsel forest, accompanied by the Luxembourgish storyteller Jean Bürlesk who will captivate his audience with tales and legends. Younger children have the chance to discover of a tale filled with mystery and suspense during a walk in an enchanted forest in Mensdorf. There will also be a fair trade rally in Dudelange and at the Upper Sûre Lake.
A women-only mountain bike race, a Fairtrade & Forest hike and a mountain bike hike will complete this programme.
All activities are organised in strict compliance with the COVID-19-related health rules.
Since the onset of the health crisis, Fairtrade has mobilised to support the 1.7 million producers and workers benefiting from the fair trade system around the world. Thanks to the Fairtrade Premium (set globally at 15% of the commercial price), producer organisations have primarily protected their members by providing them with protective equipment (masks, cleaning products, etc.) but they have also invested in the purchase of seeds to redistribute to their members in order to protect them from a possible food crisis. By purchasing Fairtrade products, everyone can support the producers and workers who are the basis of many of the products we consume in our daily lives.
Further information about this upcoming awareness campaign in Luxembourg is available at www.semainesfairtrade.lu.