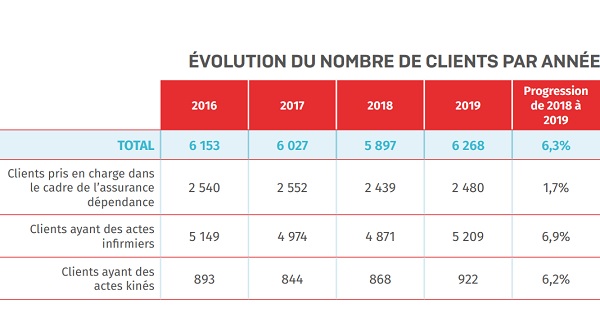 Help, an aid and care network made up of different partners in Luxembourg, presented the future challenges for home care and help, its activities during the recent state of emergency and the highlights of the last year at its general meeting yesterday, on the occasion of the publication of its 2019 report.
The Help network is composed of the Centre Hospitalier Emile Mayrisch (CHEM), the Help and Care service of the Luxembourg Red Cross, Hôpital Intercommunal de Steinfort, Muselheem asbl, Syrdall Heem asbl and Uelzechtdal asbl.
Paul Bach, President of Help, stated yesterday: "After more than 20 years of expertise in the personal care sector, Help has managed an unprecedented health crisis with agility, professionalism and availability. From the start of this exceptional situation, the Help network has been mobilised to meet the challenges and actively contribute to the resolution of this crisis. Our first concern, our first mission, was to create the conditions so that the customers of the network could be taken care of in the most effective and safest way possible while ensuring their safety and that of our collaborators".
Michel Simonis, Treasurer of Help and Managing Director of the Luxembourg Red Cross, added: "From the beginning of March, members of the Help network mobilised to confront the announced epidemic. The Luxembourg Red Cross, a main member of the network, has reorganised its services to provide adequate responses to the situation". Even in a difficult context, the network continued to provide care for its already vulnerable beneficiaries with regard to essential activities and services. At the same time, it deployed resources in order to act alongside public authorities to help people affected by coronavirus.
In 2019, Help offered support to 6,268 customers (an increase of 6.3% compared to the 5,987 customers in 2018) through its home care and assistance services care and reception in day centres. Network members provided 862,457 hours of help and care in 2019, an increase of 4.4% compared to the previous year. Paul Bach explained: "Part of this evolution is explained by the reintroduction of race outings during 2018. The hours worked for nursing procedures have also increased: this growth is explained by a higher number of customers in 2019 for the health insurance".
In order to better respond to the needs of its customers, the Help network also set up a Customer Relations Service, which has been operational since 1 July 2019. "The purpose of this new service, which represents a new link in our interdisciplinary chain and our catalogue of services is to further strengthen customer confidence through the quality of the relationship and service, to increase their satisfaction and retain their loyalty through constant listening", continued Paul Bach. The Customer Relations Service answers questions on the various service offers and takes into account any customer dissatisfaction as well as new needs. The Help president continued: "In 2019, we contacted our customers to find out their satisfaction and develop our practices. We are pleased to see that 98.74% of our customers have been satisfied or even very satisfied with our services. 96% of our customers would recommend us to those around them and 96% were ready to call on us again".
Regarding housing, which is a central issue in Luxembourg, Help introduced adaptive and innovative solutions for its target audience. In this context, 2019 saw the network complete its offer by opening a new supervised accommodation in Esch-sur-Sûre composed of around 20 studios. Help currently offers around 50 housing units in its supervised housing structures. This newest addition is managed by the Help and Care service of the Red Cross. "It is intended for people losing their autonomy or social ties, who wish to maintain their independence in a private apartment, while enjoying care and services, activities and social stimulation in an appropriate and secure environment and respecting their lifestyle", explained Catherine Gapenne, Director of the Red Cross service.
The Help network counts some 1,130 employees. The full Panorama 2019 report can be downloaded from https://www.help.lu/sites/help/files/he_133_panorama_15juin20-web.pdf.