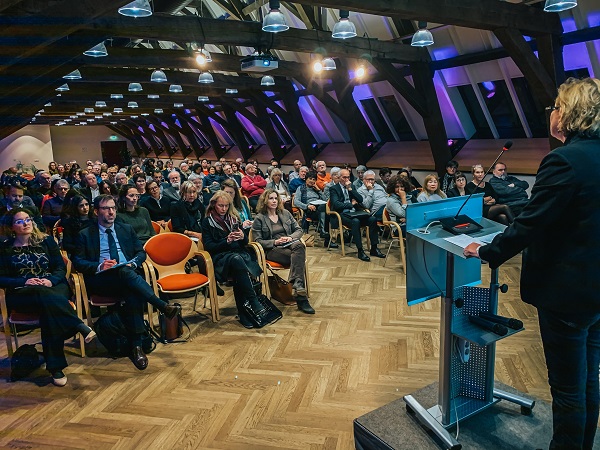 Paulette Lenert, Minister for Cooperation and Humanitarian Affairs, presents the new charter against sexual violence to development NGOs; Credit: MAEE
The Directorate for Development Cooperation and Humanitarian Affairs and the Development NGOs Cooperation Circle organised an information session on Tuesday at Neumünster Abbey presenting the new charter against sexual violence and the new safety provisions for development NGO personnel in crisis zones.
Following certain cases reported by the international press in recent years, the charter against sexual harassment, exploitation and sexual abuse, presented on this occasion by Minister for Development Cooperation and Humanitarian Affairs Paulette Lenert, was drawn up jointly by the Directorate for Development Cooperation and Humanitarian Affairs and Luxembourg's Development NGOs Cooperation Circle.
The charter is in line with the recommendations of the Development Assistance Committee (DAC) of the Organisation for Economic Co-operation and Development (OECD). Development NGOs approved by the ministry are thus required to adhere to the charter and to draw up a code of conduct implementing its principles. They will be responsible in particular for raising awareness among all stakeholders, identifying disciplinary measures and internal procedures in the event of non-compliance with the charter and communicating regularly any incidents to the Ministry of Foreign and European Affairs. They also undertake to establish standards concerning assistance to victims.
As for the safety of development NGO personnel in areas weakened by conflicts, particularly in the Sahel, Paulette Lenert stressed the importance of the presence of Luxembourg development NGOs on the ground and highlighted their duty of diligence towards their employees. Luxembourg, as one of the only countries to have never withdrawn from this region, will finance prevention activities, in particular safety training for local partners and cooperants and appropriate equipment to ensure their safety, via co-financing projects and framework agreements under the development component. This support is available from 1 January 2020.