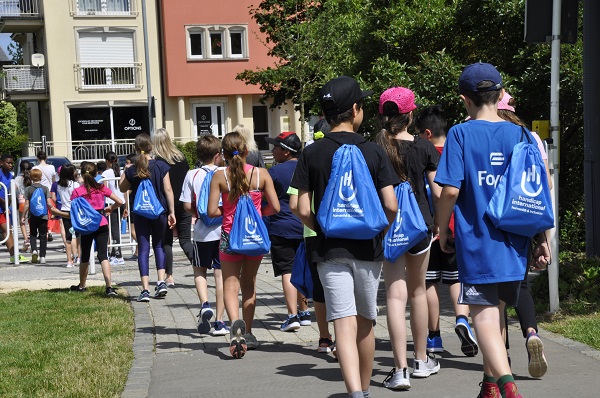 Pupils from the six schools that participated in last year's Run4School; Credit: HI
In 2019, nearly 1,600 school pupils participated in the first Run4School solidarity races organised by Handicap International in Luxembourg.
Last year, Handicap International appealed to six local schools to participate in the first edition of its Run4School project, aimed at raising funds and awareness among 5-12 year olds about the inclusion of people with disabilities.
Schools from Parc Hosingen, Esch-sur-Alzette (Jean Jaurès), Nommern, Luxembourg (Gare), Schouweiler and Howald participated in the first edition. Between May and July last year, the pupils' efforts raised €62,000, which helped enable 36 disabled children from Cambodia to attend school for one year.
Prior to the sponsored race, pupils participated in an information session with the Handicap International team who told them about a Cambodian girl and the difficulties she faces due to her disability. Each pupil then received a booklet in which to write the name of their sponsors. They set a promised donation for each lap completed by the public on the day of the race.
Handicap International summarised the initiative's aims as follows: raising funds aimed at making schools accessible; raising awareness among parents of the importance of school for their child, as well as training teaching staff; providing prostheses and care for disabled children; providing school material.
The NGO has begun appealing to schools for the 2020 edition of Run4School.