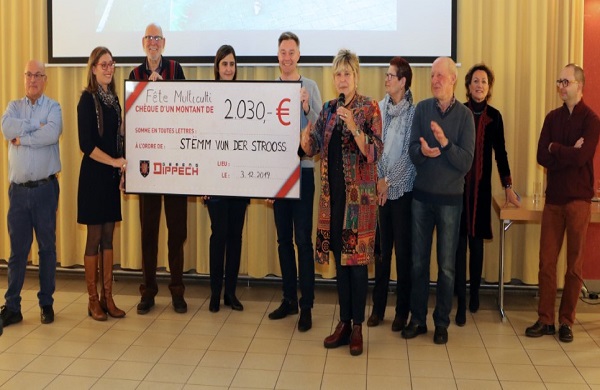 Credit: Stëmm vun der Strooss
Through its "Multiculti" event, the Integration Commission of the Municipality of Dippach (CCCI Dippach) has raised over €2,000 for Luxembourgish non-profit organisation, Stëmm vun der Strooss.
Members of the CCCI Dippach recently presented a cheque for €2,030 to the President of Stëmm vun der Strooss, Marcel Detaille, and the Financial Director, Arnaud Watelet. The CCCI Dippach raised the sum through its Multiculti event, which took place on 22 September 2019.
Among the guests at this cheque presentation were the members of the Dippach Municipal Council and Mayor Manon Bei Roller, along with those who had a booth at the Multiculti, and thus contributed to the generous donation, and people from the municipality registered in the Luxembourgish course throughout the past year.
Placed under the theme of inclusion by sharing, Manon Bei Roller pointed out that the event was very convivial, with everyone bringing a dish or a typical dessert from their country and exchanging with one another around the meal.
For Marcel Detaille, these missions come together because Stëmm vun der Strooss, like the Municipality of Dippach, intend to fight social exclusion by allowing different nationalities to meet and live better together.