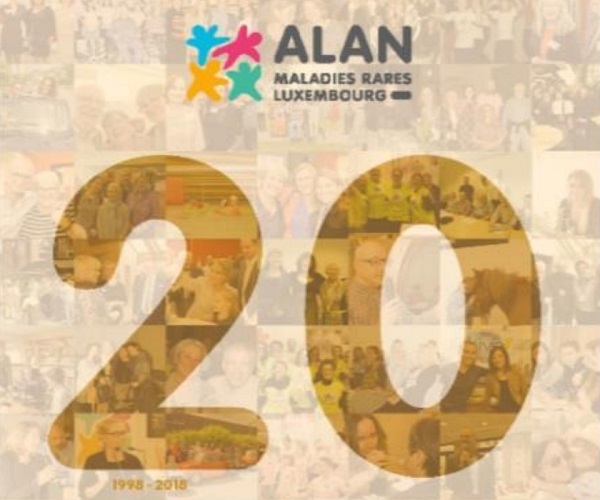 Luxembourg association "ALAN – Maladies Rares Luxembourg" recently published its activity report for 2018, during its general assembly held on 25 April 2019 in Mamer.
Diseases that affect less than five in 10,000 people are called rare diseases. In Europe, the total number of people concerned is estimated at 30 million, including approximately 30,000 people in Luxembourg. Rare diseases are often chronic, progressive and debilitating. At present, there is no cure for 95% of rare diseases.
In 2018, ALAN celebrated 20 years of engagement for the benefit of people affected by a rare disease. Through its socio-therapeutic consultations and adapted recreational activities, ALAN supported 321 patients and their families last year. Among the 165 different diseases that the service encountered the most frequent were those affecting the nervous system, the immune system and the muscles.
According to Gwennaëlle Al Hindy-Crohin, Head of ALAN's socio-therapeutic counselling service, "One of the important aspects of our work is to link psychological support with social support to provide a transdisciplinary approach. Its ultimate goal is to give patients greater autonomy and improve their quality of life."
Indeed, the association reported a 26% increase in requests for support at the administrative, psychological or social level in 2018 compared to the previous year. These were mostly new patients. As a result, the number of consultations offered also increased by almost a third. In 2018, the association offered equestrian therapy, yoga, Zumba, adapted water activities and an inclusive signing course.
ALAN also contributed to different working groups as part of the first National Plan for Rare Diseases, launched in May 2018. One of the first tasks of this plan was the creation of a National Committee for Rare Diseases (CNMR) which oversees the implementation of the plan and approves the concepts developed by the different working groups. Dr. Jos Even, vice-president of ALAN, has been named chair of this committee, which also includes other members of ALAN's operational team and board of directors. Among the priorities of the national plan to which the working groups set out in 2018, there is the establishment of an orientation unit, an Infoline and the identification of rare diseases.
Moreover, ALAN celebrated its 20th anniversary with an academic session held on 26 September at Kinneksbond in Mamer, in the presence of Her Royal Highness the Grand Duchess. Nearly 300 people joined to listen to the speeches of Luxembourg politicians and international leaders in the field of rare diseases.