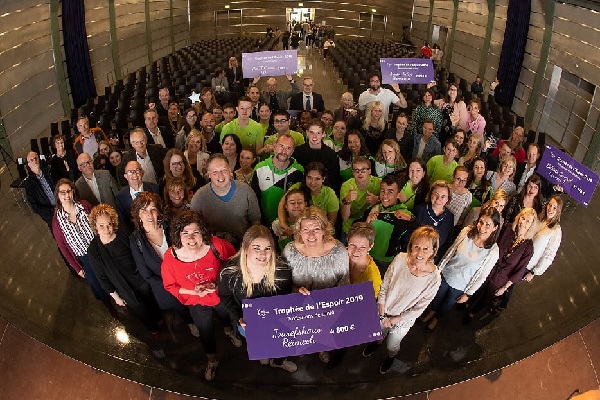 Credit: Cancer Foundation
On Tuesday 30 April 2019, the organisers of the 14th Relais Pour la Vie 24-event held on 23 and 24 March at d'Coque, held a reception at the Tramschapp in Luxembourg-Limpertsberg.
The awards ceremony was organised by the Cancer Foundation and celebrated the raising of €680,521.24, with the Trophées de l'Espoir being presented to the top six teams.
A total of 375 teams comprising 13,783 participants were involved in the event, as well as thousands of visitors. These teams were also involved in raising funds to support the Cancer Foundation.
"I wish to express my deep gratitude to all the teams for their outstanding commitment. This support enables the Cancer Foundation to fulfil its 'Information-Help-Research' missions ", said Lucienne Thommes, director of the Cancer Foundation.
The six winning teams of the Trophées de l'Espoir 2019 were:
- Team Italia (category: Country): €3,500
- CapFutur (category: Schools): €10,320
- The IT Crowd 1.0 (category: Sympathisers): €7,001
- Maison Relais Monnerech (category: Associations and Clubs): €10,713
- Jousefshaus Réimech (category: Health Professions): €4,800
- Deloitte General Services 1 (category: Companies and Entreprises): €21,170
Two Special Mentions have been awarded to the following companies:
- Provençale 1 (category: Companies): €20,693
- Raiffeisen Team 1 (category: Companies): €15,720
"We want to thank all the captains and their teams for their commitment and generosity. This year again, the Relay For Life brought together men and women from all walks of life, all present to show their solidarity. Thank you to everyone for supporting people affected by cancer with its presence and actions", said Lucienne Thommes