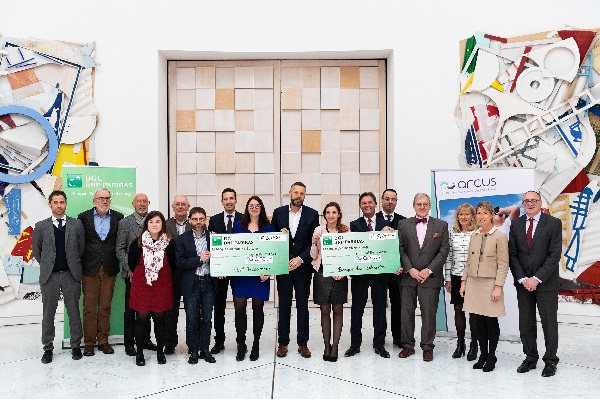 Credit: BGL BNP Paribas
BGL BNP Paribas recently presented two cheques for a total of €10,000 to the arcus' child reception centres ("Kannerhaiser") and the Centre Formida at the bank's head office.
In replacement for end-of-year gifts, the Corporate Banking and Asset & Liability Management (Treasury) departments of BGL BNP Paribas decided to support arcus with a shared donation. In the presence of representatives from both departments, the bank presented two cheques to the heads of the organisation.
arcus' "Kannerhaiser" look after and support children and young adults in difficult family circumstances, who are at risk and need to be separated from their parents temporarily. The children and young adults are welcomed in a safe, respectful environment. Socio-educational group work focuses on promoting health and schooling, establishing family and social ties, living independently, drawing up a structured daily schedule and providing support after traumatic events.
In Centre Formida, a place of discovery, learning and participation, children and young adults are introduced to the world of craft and creativity. They learn to work with various materials through art, aesthetics and experimentation within the context of a circular economy. Teenagers develop their own life plan, hone their social skills and are directly involved in handling work at the Centre. Centre Formida also welcomes young people with seemingly no direction in life, keeping them busy and motivating them to undertake creative projects together with younger children.
This initiative forms part of BGL BNP Paribas' commitment to being a responsible bank and actively participating in social and civic life.