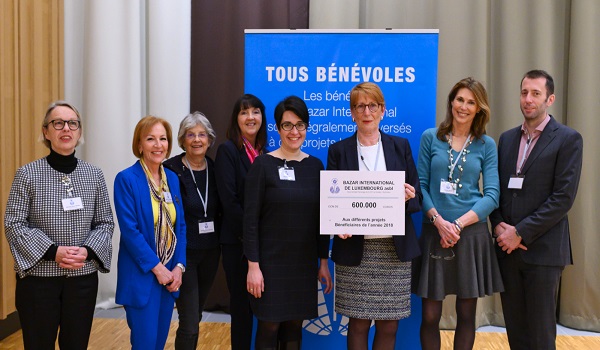 Credit: International Bazaar Luxembourg
The 58th International Bazaar, held on 8 and 9 December 2018 at LuxExpo The Box, has raised €600,000 to be donated to 70 charities worldwide.
This annual charitable event was once again a success thanks to the generosity of more than 28,000 visitors and the efforts of 71 Bazaar stands.
The annual cheque presentation ceremony took place on 13 March 2019 at BGL BNP PARIBAS's premises in Kirchberg. The Bazaar President Erika Ehrhard and the Bazaar Committee welcomed several guests of honour on this occasion, including several ambassadors. The event also saw recognition of the Bazaar stands, representing 60 nations.
The proceeds of the 2018 Bazaar will be distributed to 70 charities which were proposed by the individual Stands and evaluated by the Committee. The General Assembly agreed and ratified the amounts to be donated. The main charity of the 2018 Bazaar, a project in Sierra Leone managed by a Swedish organisation "Friends of Portee, Sierra Leone" will receive €25,000 The money will finance a school building for nursery and primary education.
A further four charities based in Luxembourg will receive a total of €30,000. These are: De Leederwon asbl, Betzdorf; Chaine de l'Espoir asbl, Luxembourg; Asbl Stemm vun der Stross, Luxembourg; Ass. Manous Abiertas asbl, Luxembourg. Ten other Luxembourg organisations received a total of €84,000; these organisations support projects in Cape Verde, India, Niger, Senegal and beyond.
The remaining amount of €461,000 went to a large number of other organisations around the world, with special emphasis being placed on developing countries.
The 59th International Bazaar will be held on 30 November and 1 December 2019 at LuxExpo the Box in Kirchberg.