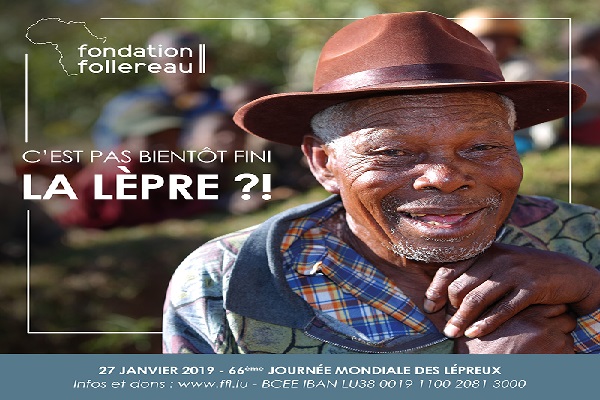 Credit: FFL
On the occasion of the 66th World Leprosy Day, Fondation Follereau Luxembourg is raising awareness of the illness and medical advances in this context.
66 years ago, French humanist Raoul Follereau founded World Leprosy Day to draw attention to those in need of medical support. Fondation Follereau Luxembourg, created by a group of Luxembourg friends more than 50 years ago, uses this occasion every year to draw attention to the general discrimination of people suffering from leprosy.
When asked why they are hesitant to consult a doctor, patients often cite fear, lack of financial means and the great distance to reach the next health centre as their main arguments. Indeed, although great progress has been made in the fight against this curable disease, public awareness remains essential to prevent new cases of more advanced disease.
Leprosy, like other often-neglected tropical diseases identified by the World Health Organization, more often affects women and children, but also populations living in remote areas with limited access to care. If these diseases are not detected early, they can cause progressive and permanent damage to the skin, nerves, limbs and/or eyes. The same is true for Buruli ulcer, another tropical disease. Early detection for early management is thus essential, not least because the mode of transmission remains unknown and thus the disease cannot be prevented.
Community awareness and training of community health workers can however help prevent new and more advanced cases of disease. In addition, screening, diagnosis, treatment and follow-ups should be carried out in the direct environment of the individuals concerned. This procedure has already generated results: the number of patients is increasing, because more and more patients can be detected at an early stage and thus have a better chance of being treated. At the UB Testing and Treatment Centre (CDTUB) in N'Zérékoré (Guinea), 6,387 patients have been identified since 2014 by APROSCO (the Association for the Promotion of Community Health), Fondation Follereau's local partner.
And yet, whilst medical advances are currently very promising, Fondation Follereau Luxembourg has emphasised that the fight does not end there.