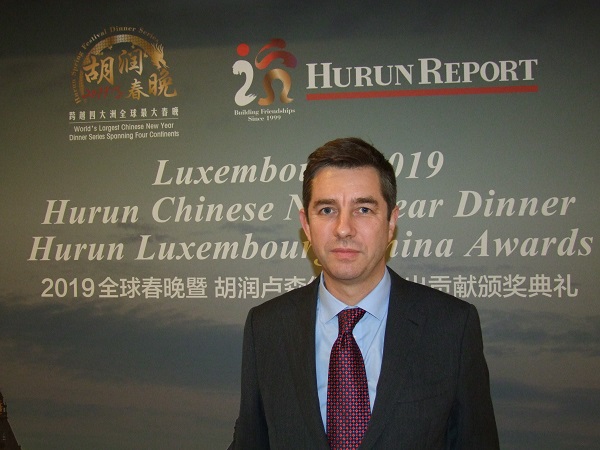 Rupert Hoogewerf, China Chopsticks annual dinner 2019;
On Thursday evening, the China Chopsticks Business Group in Luxembourg, together with the Hurun Report and supported by AMCHAM, held its annual dinner at the Alvisse Parc Hotel in Luxembourg-Dommeldange which comprised an address and awards, as well as a networking reception and dinner.
On the topic of the event "China in a Globalised Economy", Rupert Hoogewerf, chairman and chief researcher of the Hurun Report, addressed the 110+ attendees, addressing the issue of understanding the opportunities to engage with China in 2019. Despite the slowdown in the economy, China is spawning more unicorns (million dollar companies), and boasts more self-made billionaires, than anywhere else in the world. As in previous such annual dinner events, he charted China's Rich List and highlighted the trends behind this growing issue.
Introduced by Francis Hoogewerf, founder of the China Chopsticks Business Group, he explained how his son left China a week ago from Shanghai, travelling to Istanbul, to Russia, to New York, to Los Angeles, to London, before arriving in Luxembourg.
Rupert Hoogewerf started off by screening a short video which charted the history of the Hurun Report which started in China in 1999 and has also been in India since 2012. It has set up a business school and has launched two funds linked with entrepreneurship, and runs an innovation forum.
He explained that it is again a good time to talk about China, that the talked-about slowdown in the Chinese economy is not something to worry about. He also explained that he has been creating the largest Chinese New Year dinner group, spanning various continents (thus explaining his recent travels) and is trying to create the world's largest network of "Chinese Gatekeepers".
He stated that the speed of wealth being generated in China in the last 20 years has never been seen before. The Hurun Report is witnessing this phenomenal growth which has been generated by entrepreneurs. Comparing China with the US, there are 800 billionaires in China, compared to 500+ in the US. He singled out female entrepreneurs who are now making their mark in China; they have a huge level of curiosity. Beijing is the city with the largest number of (dollar) billionaires - whom he preferred to label as "super wealth creators".
On the current trade war between the US and China, this year has been the first when over 100 people have dropped off the rich List; nevertheless, 200+ new dollar billionaires have entered the Chinese Rich List in 2018.
As well as immigration and real estate, he addressed education; Chinese entrepreneurs are investing in and moving to Los Angeles, New York, Boston, San Francisco and Seattle, with London only in 6th position. He also explained the start of the Hurun Report awards, a new initiative to recognise cross-border collaboration with China, and he is now expanding the cities in which these awards are held, and broadening their own brand in the process.
In addition to ranking wealthy entrepreneurs, the Hurun Report now ranks musicians, doctors and many more.
He also revealed his plans to set up a new entity in Luxembourg and is currently working out the best model for the future.
Awards
For the first time at the annual dinner event, on behalf of The Hurun Report, Rupert Hoogewerf presented a number of awards to recipients, most of whom were there in person, recognising outstanding contributions in cross-border collaboration with China. These included:
- Lifetime Achievement Award: Robert Scharfe (CEO at the Luxembourg Stock Exchange), for services to finance;
- Outstanding Contributions: Gonvvama, a Luxembourg company which has set up in China providing steel solutions for the automotive industry; Xie King, for services to banking - an outstanding "ambassador" for Luxembourg-China relations;
- Future Star: Pingpong, a young start-up in China with headquarters in Luxembourg, for services to cross-border payment systems; Zhang Yi, Director of the Centre de Langue et de Culture Chinoises du Luxembourg (CLCCL), for services to cultural understanding;
- Posthumous Award: Billy Lau, for his dedication to the restaurant business and his promotion of Luxembourg in China, and China in Luxembourg - who ran a family restaurant in China which was visited by HRH the Grand Duke and government ministers on their visits there, and which also stocked Bofferding beer (accepted by his nephew).
He also presented awards to his parents, Francis and Angela Hoogewerf, for his support of Luxembourg-China relations over the past 15 years and for her support and encouragement of him moving to China.