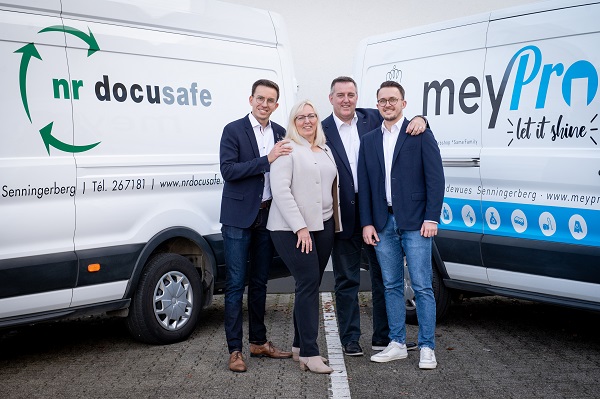 L-R: Steve Schroeder; Mireille Schroeder-Meyers; Roland Meyers; Chris Schroeder; Credit: Meyers Group
Local entrepreneurial siblings Mireille Schroeder-Meyers and Roland Meyers are currently preparing the next generation as they run the Meyers family business(es).
After selling nettoservice, Mireille Schroeder-Meyers and her brother Roland Meyers are supporting the former's sons, Steve and Chris Schroeder, in the development of their two other companies: meyPro, active in the sale of cleaning products and equipment, and nr docusafe, specialised in the archiving and destruction of confidential data.
"Now is the right time for us to mentor the next generation. My sons have always worked in the companies and know the specificities of the professions very well. It was essential for us to help them find their own way. They had to put to the proof their motivation and leadership qualities in difficult situations, because running a business is a big responsibility and not easy every day", explained Mireille Schroeder-Meyers.
"Our father founded Ed. Meyers & Cie Sarl in 1964, which today operates under the brand name meyPro. Over time, the company grew and diversified. In 1995, we created the company netto-recycling which operates now under the name nr docusafe. Today we have around 30 employees in total. We want to keep our companies going and this is a real pleasure in a family environment and with our long-time employees. In addition, we also have plans to transform our buildings in the Industrial Zone", continued Roland Meyers.
"We have been managing both companies for several years now. However, we are very happy that Mireille and Roland, advise and support us with their valuable experience ", commented brothers Steve Schroeder, aged 32, and Chris Schroeder, aged 29.
In 2018, Chris took over the management of meyPro. Since then, he has modernised the brand and digitalised the company. Chris also expressed his pride that meyPro has been awarded the "Supplier of the Grand Ducal Court" label.
Steve, manager of nr docusafe since 2018, has introduced a new and adapted vision regarding market requirements. His spirit as a young entrepreneur has given the company new perspectives for the development of the company's services, especially regarding digitalisation. Thus, a new software will be implemented in March 2023.
"Steve and Chris have already proven on several occasions that they are entrepreneurs at heart. They don't hesitate in facing difficulties and are always solution oriented. Our goal is to leave no trace, but there isn't any doubt that they will continue the business and why shouldn't they pass it on to their children?", concluded Mireille and Roland.
Meyers Group, with its two entities, is based in the Breedewues industrial zone in Senningerberg, close to the airport, the motorway and Luxembourg City. It has a showroom with a storehouse as well as a repair shop.
meyPro is the brand name of Ed. Meyers & Cie sàrl. Created in 1964, and now managed by Chris Schroeder, the company is specialised in the representation and commercialisation of products, accessories and machines in the field of industrial and private cleaning. It also offers repair and short- and long-term rental of cleaning machines. The company counts ten employees.
Since 1995, nr docusafe has been active in the destruction of confidential data. The company has been managed since 2018 by Steve Schroeder and it is a certified PSF of support (Professional Certificate of the Financial Sector). nr docusafe also focuses on the archiving and active management of documents and data media. The company currently employs eighteen people.