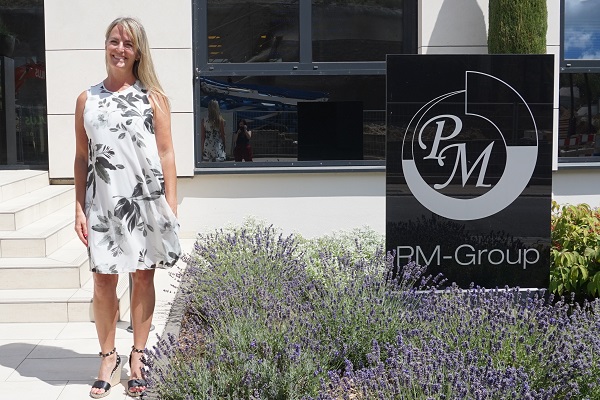 Vicki Sorg, Charity Ambassador of PM-International; Credit: Jazmin Campbell / Chronicle.lu
Chronicle.lu recently had the opportunity to sit down with Vicki Sorg, Charity Ambassador of PM-International, a direct sales company and manufacturer of dietary supplements and cosmetics based in Schengen, primarily to learn about the company's humanitarian work, but also its origins, its mission and the products it offers.
Background
Vicki's husband, Rolf Sorg, created PM-International in 1993 after the direct sales company for which he worked went bankrupt. Whilst he had become financially independent by this point, he felt a responsibility to give the rest of his team "a home", and so PM-International was born. His first office was in his hometown of Limburgerhof in Germany, although PM-International soon expanded to other German-speaking countries and eventually went international. The current European headquarters is in Speyer (Germany), whilst the international headquarters is in Schengen in Luxembourg.
Regarding the decision to set up in Luxembourg, Vicki explained that the move was all about getting an international feeling – and where better than one of the founding members of the European Union (EU), and more specifically, the place where the Schengen Agreement was signed. "When we moved, it was the same people, but you felt the difference in the thought process", explained Vicki. "These borders weren't visual anymore. They weren't blocking mental capacity for expansion. And that really, in my opinion, made the company take off, by being in Luxembourg with so many nationalities and opportunities".
A total of 123 people of about seventeen nationalities, speaking more than 40 languages, work in the Schengen headquarters. PM-International employs close to 1,000 people globally – the company is present in 45 counties. "And we're expanding", added Vicki. "We're very fortunate to be hiring and needing more capacity here".
Product offering
In terms of products offered by PM-International, Vicki began by explaining that "PM" stands for "PremiuM", from start to end. The goal has always been to get the best products out onto the market. To achieve this, PM-International works together with researchers whose laboratory is at the Luxembourg Institute of Science and Technology (LIST). "We are really focusing on getting the nutrients exactly where they are needed, when they are needed, to the cellular level, for optimised bioavailability", explained Vicki. "That's definitely our niche".
The core product on offer is the FitLine Optimal-Set, which consists of the "PowerCocktail" and "Restorate" powder solutions. The former focuses on energy, concentration and supporting the intestines, whilst the latter is aimed at being "the ideal nightcap". PM-International's products, which are made in Germany, have more than 70 patents in total.
In terms of the impact of the COVID-19 pandemic on PM-International's work Vicki explained that the company had adapted very quickly in utilising online technology during the health crisis, "so that our team partners could continue working and our customers continue purchasing online". She added that this digital strategy had helped the company further extend its reach to the younger generation.
Humanitarian work
On the subject of charity work, PM-International donated €1 million to COVID-19 relief efforts in 2020 and, more recently, the company set up a €1 million emergency aid fund for refugees and other people affected by the war in Ukraine. However, PM-International's charitable work dates to the company's early years. In 2003, the company started working with the Christian humanitarian organisation World Vision and is today the organisation's largest corporate sponsor, supporting 4,200 children worldwide through 60 long-term projects in 25 countries. Vicki explained how World Vision works with the most vulnerable people in the world, helping them to get access to clean water, education and child protection, as well as teaching the community how to earn an income. "It's very sustainable", she noted, adding that "World Vision has been a great partner".
PM-International's humanitarian work also extends to emergency situations, for instance the company's team in Japan actively reacted to the Fukishima nuclear disaster in 2011, handing out food and water to those affected. Similarly, following the earthquake in Italy in 2016, PM-International staff were on the ground distributing FitLine Power Meal bars, which were "specifically designed as a full big calorie meal so that people have instant food, no matter [what]". When COVID-19 broke out, the company worked together with the managers of its subsidiaries in Italy and Spain, countries which were particularly hard hit by the pandemic, to supply frontline workers with Power Meal bars, masks and protective gear and to help World Vision build field hospitals. "The decision [to help] was instant", explained Vicki. "For Rolf and myself, it's about [if] we can help, and fortunately we can in a lot of ways. We felt that we had to do something there".
Then, on 24 February 2022, Russia launched a full-scale invasion of Ukraine and PM-International quickly decided once again to support relief efforts with a €1 million support package. To date, the company has sent over 100 pallets of humanitarian relief items including medical supplies and more than 250,000 Power Meal bars to Ukraine, together with the city of Speyer, various suppliers and team partners. "It's important also that it's a team effort, because I think everybody does want to contribute", stated Vicki. As such, PM-International pledged to donate another one million meals in a joint campaign together with its distribution partners. Support is ongoing, with PM-International purposely distributing Power Meal bars, medical supplies and other relief items over an extended period, "according to what our partners' employees in Kiev are telling us about their needs". The company is supported in these efforts by its logistics centre in Speyer.
Moreover, PM-International has supported the creation of fifteen child-friendly spaces in Romania, on the border with Ukraine, together with World Vision, helping to send games and qualified staff to help mothers and children to cope with the psychological impact of the war. The company has also helped to transport 50 refugees to Speyer by bus, including some team partners from the Ukraine subsidiary – one of PM-International's largest subsidiaries – as well as supporting their integration after their arrival.
PM-International also works together with about 1,000 athletes from more than 60 disciplines worldwide. These include two product ambassadors from Germany: professional extreme athlete Achim Heukemes and handball player Christian "Blacky" Schwarzer. Recently, PM-International was the highest bidder of former professional cyclist Tony Martin's Olympic medal auction (he took home silver in the 2012 London Olympics) which aimed to raise funds for children in Ukraine; after donating the sum of €35,000, the company returned the medal to him.
At the local and regional level, PM-International recently sponsored the FitLine Moselle Run for the first (but not the last) time and regularly lends its support to local sports teams. In the context of the COVID-19 pandemic, the company worked together with Luxembourg's Ministry of Health, for example supplying hygiene items.
Last month, PM-International held its biggest ever World Management Congress at Luxexpo The Box in Luxembourg-Kirchberg – an event bringing together the company's global network of team partners, some of whom were coming face-to-face again for the first time in three years. For Vicki, the most exciting (and emotional) part of this event was being able to bring over one of the company's sponsored children for the first time: a now 20-year-old woman who had grown up in a yurt in Mongolia and who was now studying at university in the capital, Ulaanbaatar, to become a train engineer. "Everybody in the room understood that every sold product contributes to our charity. And she's a result of that. Just seeing her on stage and the difference it made, it gave her that perspective in life that she may not have had. That was really special", concluded Vicki.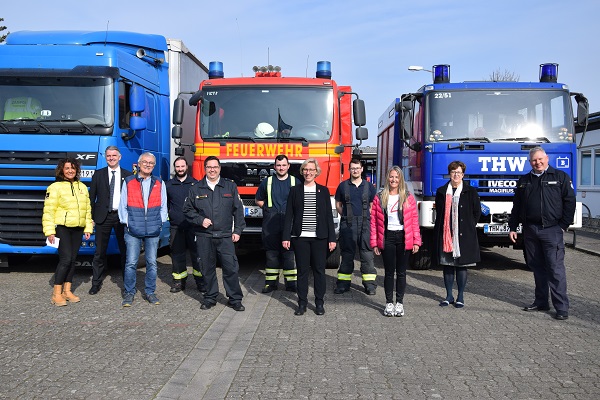 (3rd from right) Vicki Sorg together with the PM-International team bringing medical relief items from Germany to Ukraine by lorry; Credit: PM-International