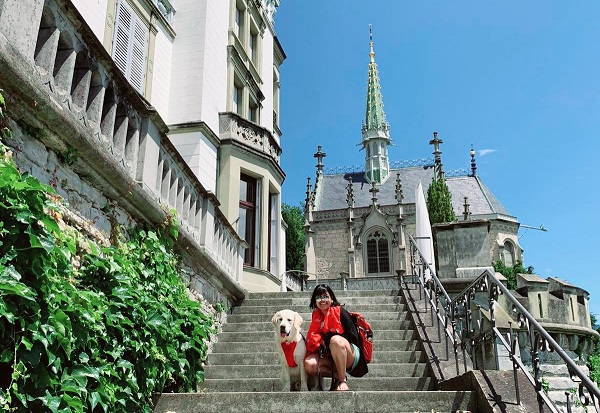 DogStays Founder Supriya Sodhi pictured with her Golden Retriever, Wookie; Credit: Supriya Sodhi
Chronicle.lu recently had the opportunity to speak with Supriya Sodhi, Founder of DogStays, about what makes her dogsitting business unique as well as the challenges and opportunities associated with running one's own business in Luxembourg.
Supriya Sodhi, an experienced marketing communications professional originally from India, set up DogStays in Luxembourg at the end of 2018. As she explained to Chronicle.lu, she initially began dogsitting for her friends to help them out and because she greatly missed her own dogs back in India after her relocation to the Grand Duchy. She quickly saw how many pet owners, particularly expatriates, were struggling to find an adequate pet care solution when they had to travel or leave their pets behind temporarily for one reason or another. She began looking into ways that she could help facilitate this process. In 2018, Supriya conceptualised DogStays and officially launched the company at the start of 2019. Whilst she had headed various marketing teams over the years, this was the first time she had run her own business.
Regarding the process running up to this launch and the startup phase, Supriya noted that she had received a lot of support through initiatives such as the Entrepreneurial Woman Project (EWP) of the Luxembourg-Poland Chamber of Commerce (LPCC) – she won the 5th edition in 2018 with her "DogStays" project idea – and those of the House of Entrepreneurship, powered by the Luxembourg Chamber of Commerce. She described her EWP experience as "instrumental in giving [her] the confidence to go ahead" with her company idea. The project provided her with a lot of useful information, such as the different legal forms of a business that can be incorporated in Luxembourg, and support, not just from the mentors but also her peer group. "It was empowering to be in a room with lots of women who were wondering the same things", she noted. Just a few months after winning first prize, she incorporated DogStays.
Similarly, the support of the House of Entrepreneurship had proven invaluable. Supriya also took part in programmes such as nyuko's "Idea Launcher", which supports entrepreneurs by connecting them to the experts required for their specific business needs, and the "Business Mentoring Luxembourg" programme of the Chamber of Commerce, which pairs entrepreneurs with an individual mentor.
Returning to the subject of DogStays itself, Supriya noted that the main goal has remained the same throughout: to make the process simpler for people struggling to find someone to look after their dogs when needed, all the while focussing on the needs of individual dogs. Nevertheless, as in any business, there is always room for improvement and there are things to be learned each day, for instance from dog owners, or "dog parents" as Supriya calls them, who offer their "priceless suggestions".
Whilst trying to simplify this process for dog owners, Supriya has noticed an interesting development over the past few years: in addition to catering to the needs of dog owners, this is often a rewarding experience (financially but also emotionally) for the dogsitters that form part of the DogStays network. Many of those who dogsit with the company are torn between missing their own dogs or just loving dogs in general and being unable to take on the responsibility of having their own dog. "That was really eye-opening", stated Supriya. "I didn't realise it could mean so much to the people on the other side". She described this aspect of the business as "surprisingly gratifying". Other highlights include dog owners coming back to DogStays month after month, year after year and even dog parents becoming dogsitters.
In terms of the challenges faced since the launch of DogStays in 2018/19, Supriya admitted that language was a challenge, particularly in a place as multicultural as Luxembourg. She noted that the expat-oriented company "naturally attracted people who don't have as many friends or family options here to care for their dog". This often means more languages, as well as different backgrounds and personalities. "You have to make everyone equally a part of the network", she added. Then, there are the business-related challenges, although support is available, for instance through the Chamber of Commerce. "Running a business alone is really challenging", she stated, adding that it can leave more room for self-doubt. Consequently, it is important to find positive people for support. "I have little groups of friends who are my brainstorming circle", she said, adding that her husband and her family in India had been very supportive throughout her DogStays journey. Like many businesses, DogStays also suffered during the pandemic. Another result of the health crisis was more people getting pets, as they switched to remote working, etc. Supriya said she had certainly seen greater need for day care for dogs during and after the pandemic, and specific issues had arisen from this period, namely more dogs suffering separation anxiety as they were not used to being left alone or being away from their owners during lockdown.
When asked for whom DogStays mainly caters, Supriya responded: "For anyone with a dog". She added that dog owners have many "amazing" kennel and boarding options in Luxembourg. However, what she has found since starting her company is that "there are many dogs for whom those are simply not good options", depending on whether the dog is nervous or too young, has been socialised differently or has special preferences, for instance regarding other dog breeds or a person's gender. Now that she has her own dog here in Luxembourg, Wookie, she "can relate to this more". She elaborated: "It becomes really important the minute it becomes about the dog". In fact, DogStays has been built entirely around the needs and preferences of individual dogs – something which Supriya never wants to change.
In terms of who is and who can become a dogsitter at DogStays, the most important requirement is that a person has some experience with dogs (or other animals) before joining the network, whether they have (or had) their own dog or have previously dogsat for friends or neighbours. Beyond that, dogsitters are matched to dogs according to their work and / or life schedule. Nevertheless, the process to become a DogStays dogsitter is not an easy one. Potential dogsitters are vetted in two ways: they must provide their identification and other documentation for security reasons, as well as providing details about their background and experience. Similarly, those wishing to use DogStays' services, i.e. dog parents, are required to submit a detailed information form about their dogs' needs and preferences. "It is not just about doing more and more business", Supriya explained, adding that the procedure is designed to be "thorough not easy", with the aim of finding the perfect match for dogs and dogsitters.
When asked what she believes makes DogStays unique in Luxembourg, Supriya stated: "It's unique because it's so personalised to the dog". She continued: "For me everything about the business stems from that. I don't think any other dog business in Luxembourg can say that". Feedback from clients has confirmed this observation.
Finally, regarding her advice for people, particularly other women, looking to start their own business in Luxembourg, the DogStays Founder stressed the importance of being organised and knowing whether one actually wishes to start a business or to pursue something else, such as freelance work. "A lot of people say they want to start a business. But you must be clear that a business is what you are looking to start", she noted. Supriya reiterated that "being organised is so important. If you're not structured right from the start, you are lost". She also advised seeking help from the many support structures and initiatives that exist for entrepreneurs and startups in Luxembourg. "You come away with a lot more than you went in with. That's what is most valuable", she stated. Moreover, finding your "circle" of support and motivation is of the utmost importance: this can be "a mix of people who are experts, others who are just empathetic and yet others who are just always in your corner – that's what you need". She also recommended that budding entrepreneurs "read a lot – there are many books and blogs and articles out there that probably talk about precisely what you're stuck with".
Two current DogStays dogsitters also shared their experiences with Chronicle.lu. Licetty, who is originally from Peru, explained that she has been actively dogsitting with the network for the past year. She spoke of her life-long love of dogs and animals in general and how she got involved in DogStays because she missed her two dogs who were back in Peru. "I currently can't have a dog so I decided to join the network", she explained. "So far, it has been an amazing experience, with Supriya and the dog parents", some of whom she already considers friends.
Another dogsitter, who preferred to remain anonymous, similarly described her experience positively. She joined the DogStays network in January 2022 as she was working from home and felt lonely. Having grown up around dogs, she had considered getting one herself but soon found out about DogStays and welcomed the opportunity to try dogsitting. She appreciated the thorough process of matching a dogsitter to a particular dog according to availability and preferences, as well as having the dogsitters first meet the dog and their owners. "They make it very easy for you", she stated. She added that it was nice to be able to give the dog "a homely experience" or at least a sort of holiday home and appreciated the personal aspect of the network, with dogsitters and dog parents remaining in contact and sharing dog updates.