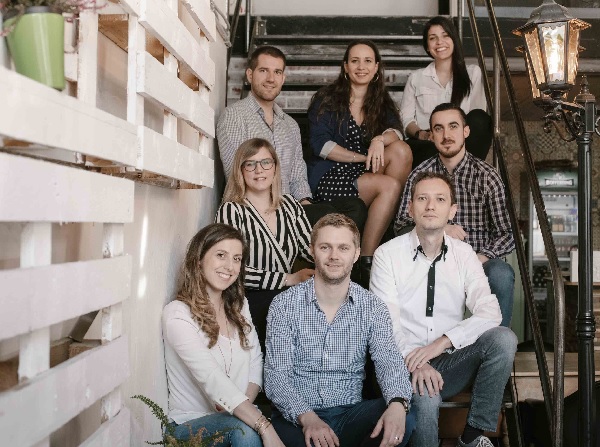 Supermiro team; Credit: © Anna Katina / Silicon Luxembourg
Luxembourg startup Supermiro has raised €800,000 from Luxembourgish supporters of Artificial Intelligence (AI).
Three Luxembourgish investors have decided to invest in Supermiro, a personal assistant based on technology using geolocation and powerful algorithms that helps users plan their free time depending on preferences, habits, the day of the week and the weather.
Every day, users search Supermiro to discover relevant things to do around town. In the view tab, a user walks around, finding inspiration from the most popular local addresses. In the look tab, they can play with the various filters (When, Where, What) to find the perfect evening. In just a few weeks, Supermiro will propose "meeting people in a hurry" in the trend "slow down," using profiling to deliver only a limited selection of outputs, 100% tailored, twice a week, for each regular user.
eLfy Pins, the Chief Entertainment Officer on the Supermiro team, commented: "The project began on the corner of a table between friends. The idea: starting from nothing, having fun, and doing a super big thing".
Revenues earned in the first months have helped self-finance market penetration in Luxembourg as well as the development of the algorithm, which makes it possible to deploy the product at scale. Given Supermiro's success and figures (42% penetration in urban Luxembourg for 20-45-year-olds), the young team of nine decided to push its development beyond borders, starting with Brussels.
"Supermiro opened the door for investors to 'go faster, farther, and stronger.' This allows the team to develop our products and technology, and to launch the service internationally—to conquer Europe," said the Chief Entertainment Officer, adding that: "In total, three investors decided to accompany us. And they're all Luxembourgish."
Indeed, the service is now available in Luxembourg, the Greater Region and Brussels. With this round of funding, Supermiro will focus on accelerating and developing its activities in Belgium, then turn to France in a second step.
This information was first published on Silicon Luxembourg.