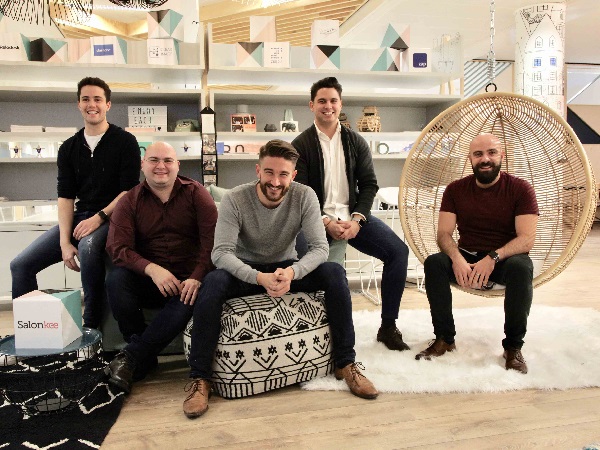 L-R: Samuel Faber (COO/CFO); Andre Stehle (CTO); Tom Michels (CEO); Alexandre J. Claro (CMO); Gilberto Fernandes Cardoso (CSO); Credit: © Salonkee
Luxembourg-based start-up Salonkee has raised €1 milion thanks to private and institutional investors.
Launched in March 2017, Salonkee has quickly become Luxembourg's go to platform to book hair, beauty and wellness appointments online. Currently, thousands of customers use Salonkee to book their appointments online each week.
Over time, Salonkee has grown to more than just a simple online bookings platform. Tom Michels, CEO of Salonkee, confirms this: "Initially, we started with a digital calendar and simple-to-use, yet highly-customised, online bookings for the hair and beauty sector. Today we are providing an innovative and full-fledged salon management solution to our partners. Smart online bookings, automated reminder SMS, informative analytics, and a fully integrated Point-of-Sale solution are among our most loved features, helping our partner salons to stay one step ahead of the competition."
After successfully graduating from Luxinnovation's 'Fit4Start' programme in 2018, Salonkee started planning their international expansion. This €1 million seed round represents a major milestone in the path of the young Luxembourgish company. The round was led by Luxembourg-based venture fund Expon Capital, through its Digital Tech Fund, with participation from multiple private investors.
With the new capital, Salonkee is planning to further improve its product offering and rapidly grow the team to expand its activities beyond Luxembourg.
This information was first published on Silicon Luxembourg.