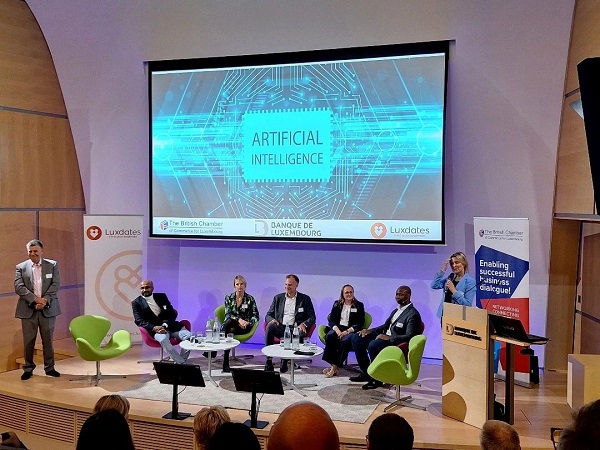 Credit: BCC
The British Chamber of Commerce for Luxembourg (BCC) held its annual Leadership Forum on Wednesday 18 October 2023 at the Banque de Luxembourg.
This event, dedicated to "AI in Business: a Threat or Opportunity?", took a glimpse into the not so distant future for an exploration into the role of artificial intelligence (AI).
The moderators were Lene Pedersen and Dr Keith Amoss - BCC People and Leadership Group. The panel of experts who were quizzed on their knowledge and experience were: Romit Choudhury, COO and co-founder of Softfbrik; Genna Elvin, co-founder and Chief Tada Officer at Tadaweb; Thomas Kallstenius, founder and CEO of Trädtopp; Catherine Di Lorenzo, partner at Allen & Overy; Yannick Huchard, CTO at Banque Internationale à Luxembourg (BIL).
The evening kicked off with a show of hands, revealing that 80% of the attendees admitted to regular engagement with AI tools like GPT and Bing. In the eyes of the BCC People and Leadership Group, this was a tangible testament to the swift integration of AI into our professional and personal domains - in contrast with what might have been anticipated a year ago.
Delving into pivotal issues, the panel defined AI, shared profound insights into its future, pondered over the future workplace and critically examined the necessity for control, such as the proposed EU AI regulations.
Addressing concerns about the impact of AI on the job market, the panel, on a generally optimistic note, portrayed AI as a collaborative force rather than an imminent threat to human autonomy.
Over an hour and a half, attendees got a glimpse into AI's current applications, such as its transformative influence across various public and private sector organisations covering finance, law, medicine and commerce.
While many of the answers were in the realm of best guesses, the discussions were found to be rich and substantive, with questions from an engaged audience. Emphasis was placed on individual preparedness for the imminent changes, advocating the acquisition of new skills for AI users and recommending a cautious approach to personal data sharing to avoid the chance of AI manipulation by anyone who might be using it for bad intent.
The evening cast a discerning light on the intricate dance between humanity and AI, with some profound reflections on the future. So, is AI an opportunity or a threat? It appears to embody elements of both, concluded the BCC People and Leadership Group.