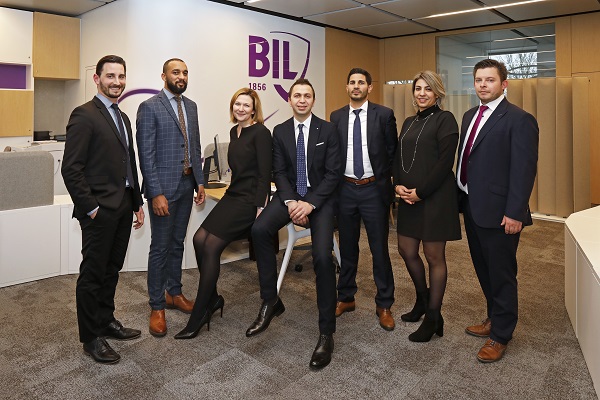 Bettembourg branch team; Credit: © BIL
The Banque Internationale à Luxembourg (BIL) branch in Bettembourg has just moved to the new Shopping Park, located at 263 Route de Luxembourg.
Starting this week, the BIL Bettembourg team will serve its clients in the brand new premises. This branch specialising in advisory services forms part of the planned future developments in the BIL network.
For several years, BIL has been shifting the operating model of its branches towards advisory services. The new BIL branch in Bettembourg offers the bank's Relationship Managers an improved setup to welcome clients, be they companies or individuals, and to better support them in achieving their personal or professional plans. A Servibank+ area equipped with ATMs and a change machine allows clients to carry out day-to-day transactions, even when the branch is closed.
For services such as opening an account, taking out a loan or investing in the future, the branch manager Mr Babacic and his team are available for appointments from Monday to Friday, 08:00 to 19:00.
In addition, BIL is constantly improving its customer experience with the latest technological upgrades. To meet the expectations of clients who want access to their bank anytime, BIL is investing in innovative sevices. Examples of this include allowing clients to open an account entirely online, Pay@Pump (paying for fuel using a smartphone), real-time notifications for transactions and payments and Apple Pay compatibility. Clients can also contact a BIL adviser for support in their digital journey via tel.: 4590-5000.
By ramping up its human and digital resources, BIL has aimed to combine customised support and expertise with a streamlined and client-focused service.