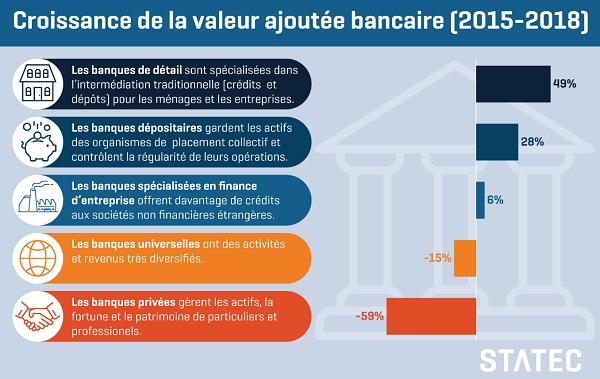 Credit: Statec
In its latest "Regards" report, the national statistical agency Statec has detailed the evolution of Luxembourg's banking sector between 2015 and 2018.
Since 2016, banks have had to adapt to very low interest rates that limit their income from loans, to stock markets agitated by rising global economic and political uncertainties and to the requirements of new European regulations. Faced with these challenges, each type of bank has a different strategy leading to potentially very contrasting results. The performance of Luxembourg banks in recent years has thus largely differed depending on their core business.
Thanks to the increase in loan volumes granted, the retail banks and the depositaries of collective investment schemes have nevertheless managed to significantly increase their interest margin (up 47% and 87% respectively between 2015 and 2018), unlike other banks. In addition, the good performance of investment funds in Luxembourg has enabled depositary banks to increase their net commissions by 18%.
In 2018, the banks' gross value added (GVA) rose slightly by 3.0%, after having decreased by 1.9% in 2017. Credit institutions alone generated 13% of the total GVA in Luxembourg in 2018 (against only 4% on average in the euro zone). According to Statec's report, it is therefore important to understand the developments in this industry.
Since the 2008 financial crisis, banks have had to bear the continuous rise in overhead costs linked to new regulations and digitalisation, on the one hand, and adapt to the fall drop in interest rates accompanying monetary easing, on the other. The ratio between general expenses (excluding staff costs) and total income generated by banks increased by 20% to 24% between 2015 and 2018, the largest increase affecting private banks, which are particularly affected by the new regulations on asset management.
All in all, custodian banks have contributed the most to growth since 2015, driven by the development of collective investment undertakings (an area in which Luxembourg is the leader on the European market). Meanwhile, retail banks increased their interest margin despite low rates thanks to the significant boom in loans to households.
Uncertainties in the stock markets and the global economy, on the other hand, weighed on the income of private banks, corporate finance and universals. The particular developments of a few banks, however, greatly influenced the results observed for private and corporate finance banks. Consequently, performances can diverge between the different banking clusters, as well as within the same cluster.
The full report is available, in French, from https://statistiques.public.lu/fr/actualites/economie-finances/conjoncture/2020/02/20200213/index.html.