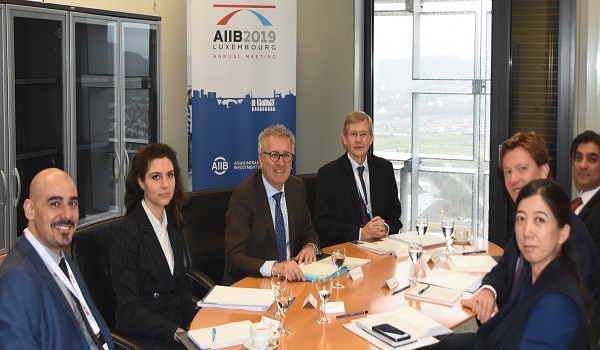 (3rd from left) Pierre Gramegna, Minister of Finance; (2nd from right) Sir Danny Alexander, Vice-President of the Asian Infrastructure Investment Bank; Credit: MFIN
Luxembourg Minister of Finance Pierre Gramegna today discussed the importance of digital infrastructure with the Vice-President of the Asian Infrastructure Investment Bank (AIIB), Sir Danny Alexander.
During his working visit to Luxembourg, Sir Danny Alexander met with Pierre Gramegna to provide an update on preparations for the AIIB annual meeting, scheduled for 12-13 July 2019 in the Grand Duchy. The Bank's Vice-President and Luxembourg Finance Minister also took advantage of this visit to determine the thematic priorities of the meeting, which will be held under the theme "Cooperation and Connectivity".
At noon, Pierre Gramegna and Sir Danny Alexander participated in a conference-debate, jointly organised by the Ministry of Finance and the University of Luxembourg, entitled "The AIIB meets Uni.lu: Infrastructures for the Digital World". The Vice-Rector of the University, Romain Martin, Associate Professor of the Luxembourg Center for Systems Biomedicine, Emma Schymanski, and Nasir Zubairi, CEO of the Luxembourg House of Financial Technology also took part.
In particular, the discussion provided a better understanding of the importance of digital infrastructure for the development of economies in the 21st century, as well as the primary role that multilateral banks play in financing these economies.
On the evening of 14 March, the Minister of Finance and the Vice-President will speak at the "Infrastructure as a Global Asset Class" event organised by Luxembourg For Finance in Mudam. This conference will bring together 200 financial sector players to discuss opportunities related to infrastructure investment.