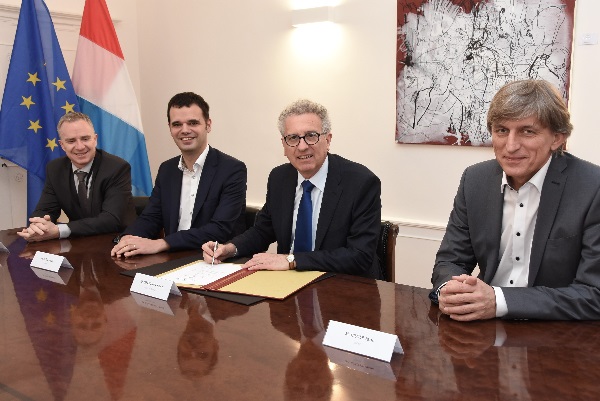 LUXHUB, the European Open Banking API Platform, today received its Professionals of the Financial Sector (PSF) License.
On 4 March 2019, Luxembourg Minister of Finance Pierre Gramegna granted LUXHUB the PSF License. Created by four major retail banks, Banque et Caisse D'Epargne de l'Etat, BGL BNP Paribas, Raiffeisen Bank and POST Luxembourg, LUXHUB provides an innovative answer to the upcoming PSD2 European Directive which opens the market of bank payments accounts to new services and new providers.
According to LUXHUB COO Claude Meurisse: "The PSF License represents a big step forward for the company in following its vision and strategy to act as a major European open banking platform between the different financial players in the digital future".
With the contracts signed until now, LUXHUB will ensure compliance with the new regulation, will provide cybersecurity protection and will guarantee around-the-clock stability for more than 1,000,000 payment accounts for financial institutions from five different European countries. LUXHUB's PSD2 XS2A Compliance Product represents the start-up's first mutualised effort helping European financial service providers to technically comply with the mandatory dates.
In addition, on 13 March 2019, the Minister of Finance will open the First European Open Banking Panel, hosted by LUXHUB, which gathers relevant specialists and experts in order to discuss the challenges of the PSD2 regulation and of Open Banking in general.