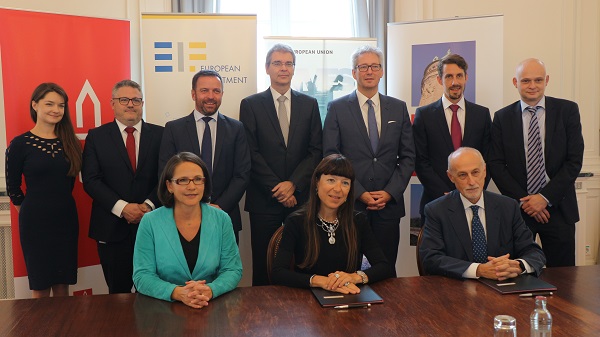 Investment Plan for Europe; Credit: © European Commission 2018
The European Investment Fund (EIF) and Banque et Caisse d'Épargne de l'État in Luxembourg (BCEE) have signed a new guarantee agreement on a portfolio of loans of €40 million to improve access to finance for small and medium-sized enterprises (SMEs) in Luxembourg.
This agreement benefits from the support of the European Fund for Strategic Investments (EFSI), the heart of the Investment Plan for Europe, the Juncker Plan.
Under the new InnovFin agreement, BCEE will provide loans and leases on favourable terms to innovative SMEs and small mid-caps for the next two years. EIF's guarantee is provided under the initiative "EU InnovFin finance for Innovators" with the financial backing under Horizon 2020, the EU research and innovation programme. The EU's support for this transaction is expected to benefit around 100 companies.
European Commissioner for Research, Science and Innovation, Carlos Moedas, said: "This is great news for Luxembourgish innovative small and medium businesses, which sometimes just need a little financial boost to turn their ideas into concrete projects with high commercial values. Innovative businesses across Europe can expect even more support from the EU to develop new products and expand in next long-term EU budget, especially with the new Horizon Europe and InvestEU programmes."
Speaking at the signing event in Luxembourg, EIF Chief Executive Officer, Pier Luigi Gilibert, commented: "I am delighted to be signing this InnovFin agreement to support innovative Luxembourgish businesses. Banque et Caisse d'Épargne de l'État, Luxembourg, will help us to target innovative companies across the country, ensuring that innovative SMEs and small mid-caps can develop and grow. In addition to the more than €190 million contributed under EFSI via banks in Luxembourg, we are pleased that more finance will be at businesses' disposal".
Banque et Caisse d'Épargne de l'État, Luxembourg Chief Executive Officer, Françoise Thoma, said: "As a long standing shareholder of the European Investment Fund and in light of one of BCEE's missions consisting in the contribution by its finance activities to the economic and social development of the Luxembourg economy, BCEE is particularly proud to announce the partnership with the EIF which will benefit the innovative small and medium sized companies among its client base. BCEE is convinced that this partnership with the EIF will enable these companies to grow their businesses contributing thereby, as part of the backbone of the Luxembourg economy, to the value and job creation in Luxembourg and beyond."