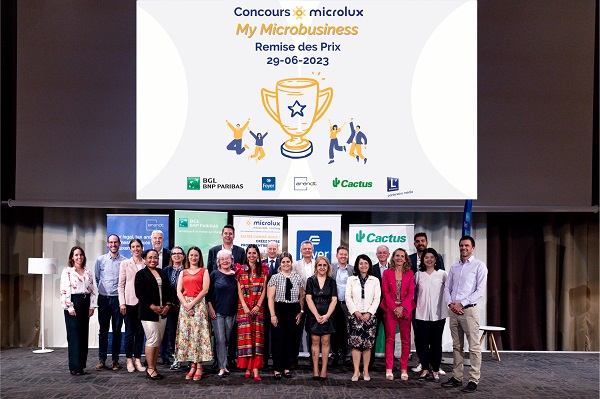 Credit: Microlux
On the evening of Thursday 29 June 2023, microlux held an awards ceremony for the second edition of its "My Microbusiness" competition.
Four entrepreneurs were rewarded during this ceremony, which took place in the presence of more than 100 attendees, including major economic and political figures from Luxembourg.
Hosted at the headquarters of BGL BNP Paribas, the evening was opened by the Chairwoman of its Executive Committee, Béatrice Belorgey, who reaffirmed the bank's desire to strengthen its support for microlux in order to work for the financial inclusion of less privileged people.
Luxembourg's Minister for Small and Medium-Sized Enterprises and Minister for Tourism, Lex Delles, praised microlux for "its essential work in favour of entrepreneurship" and noted that with "200 supported entrepreneurs creating 300 jobs, its usefulness is well established". He added that the General Directorate for Small and Medium-Sized Enterprises was "proud to count microlux among its partners".
Alessandro Tappi, Chief Investment Officer of the European Investment Fund (EIF), echoed this view while retracing the history of the EIF's support for microlux since its creation, with two guarantee programmes dedicated to European SMEs and an investment to strengthen the operational capacities of microlux in 2019.
The My Microbusiness competition, organised by microlux together with various partners, aims to highlight the microentrepreneurs supported and financed by the microcredit institution.
Microlux pre-selected 20 projects and presented them to the competition partners who had to choose four winners based on the following criteria: the life course of the entrepreneur, the social impact of the project and the prospects of development.
The winners were:
• Gabriella, creator of Awka, a sustainable fashion brand promoting Ecuadorian craftsmanship: BGL BNP Paribas prize, worth €3,000;
• Alice, creator of Volio, a delicatessen offering Italian products: Foyer prize, worth €3,000;
• Cynthia, creator of Serenity Bali, a massage parlour: Arendt and Medernach prize, worth €3,000;
• Isabel, creator of Bitzbel Couture, a haberdashery and alterations shop: Cactus prize, worth €2,000.
The "Coup de Coeur du Public" prize went to Isabel from Bitzbel Couture following a close vote. The seamstress who "realises her childhood dream" of creating her own business at the age of 58 will receive communication support from L'Essentiel worth €5,420.