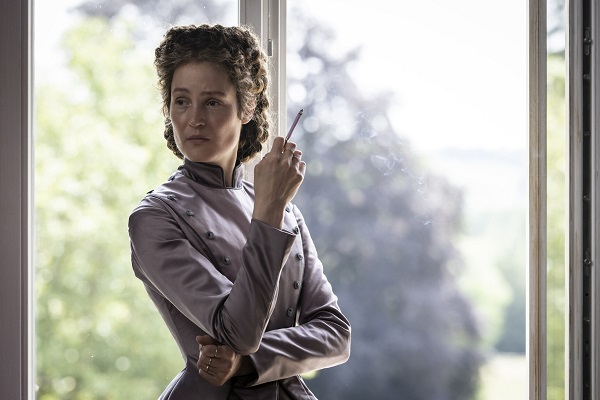 Vicky Krieps in Corsage; Credit: © Ricardo Vaz Palma / Alamode Film Scaled / SAMSA FILM
On Saturday 10 December 2022, the 35th edition of the European Film Awards, the European equivalent of the Oscars, were held in Reykjavik in Iceland: Luxembourg actress Vicky Krieps was awarded Best European Actress of the year (2022) for her role in the feature film "Corsage" by Marie Kreutzer, co-produced by Bernard Michaux (Samsa Film).
This new European award comes on top of the numerous prizes won by Vicky Krieps for the role of Empress Sissi, whom she plays in the Luxembourg co-production and for which she notably won the "Un Certain Regard" Prize for Best Actress at the Cannes Film Festival this year.
During the ceremony, the actress spoke by video message saying she was very happy and honoured to receive the award for female interpretation and dedicated this award to all the women in the world who deserve to be seen and heard.
Luxembourg's Prime Minister and Minister of Communications and Media, Xavier Bettel, congratulated the actress for this important international recognition and said he was very proud of the artistic performances of our talented actress.
No less than four Luxembourgish films competed this year at the European Film Awards in the following categories:
European Film: Corsage (Samsa Film)
European Director: Marie Kreutzer for Corsage
European Actress: Vicky Krieps in Corsage
European Animated Feature Film: Le petit Nicolas – Qu'est-ce qu'on attend pour être heureux ? / Little Nicolas – What are we waiting for to be happy? (Bidibul Productions) and My Love Affair with Marriage (Antevita Films)
European Discovery - Fipresci Prize: Le serment de Pamfir / Pamfir's Oath (Wady Films)