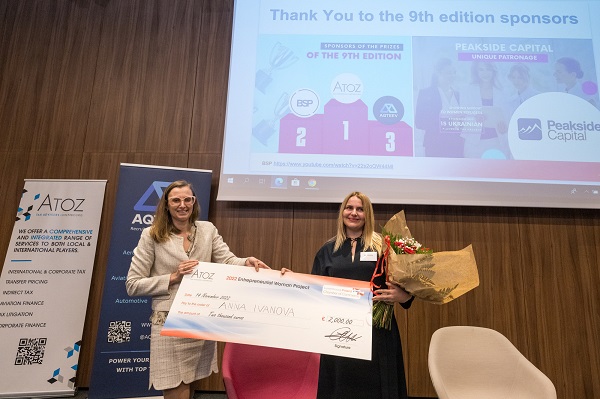 Anna Ivanova, first prize winner of EWP 2022, pictured with Petya Dimitrova, Partner at ATOZ (sponsor); Credit: LPCC
The ninth Entrepreneurial Woman Project (EWP), organised by the Luxembourg-Poland Chamber of Commerce (LPCC), came to an end on Monday 14 November 2022.
Upon successful completion of the six-week programme (held on Saturdays in Luxembourg City), over 20 participants received their diplomas during the gala that took place this week at Arendt House in Luxembourg-Kirchberg.
The award ceremony, hosted by Lisa Burke, brought together LPCC members, EWP sponsors, project participants and their loved ones, as well as representatives of the Polish Embassy in Luxembourg, including Ambassador Piotr Wojtczak and Consul Pia Libicka-Regulska.
The guest speaker at this edition was Isabelle Alexander, the founder of Madame Chocolat. She told the story of setting up her business from scratch, focusing on the ups and downs and what can happen in every entrepreneurial journey.
The highlight of the evening was the announcement of this year's EWP winners: first prize (€2,000 from ATOZ) went to Anna Ivanova for her Beautycase Project; second prize (€1,500 from BSP) was awarded to Natalia Demchuk for her idea of creating a Ukrainian cultural centre in Luxembourg; third prize (€1,000 from AQTEEV) went to Anna Shekhvatova for her presentation on delivering digital marketing solutions.
After receiving her diploma, Anna Ivanova presented her winning pitch to the rest of the audience.
Afterwards, it was time to give out the certificates of achievement for outstanding performances to all participants of the ninth edition of EWP.