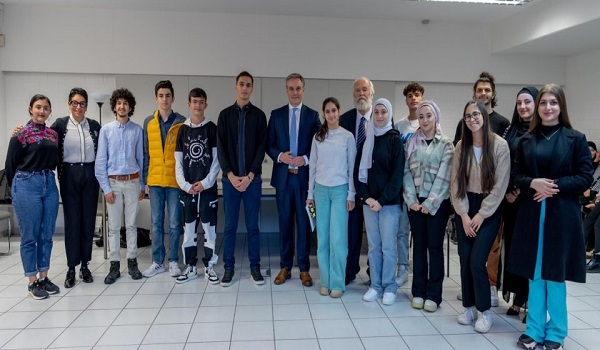 (Centre) Claude Meisch, Luxembourg's Minister of Education, Children & Youth and (back) Siggy Koenig from Eng Zukunft zu Luxembourg, surrounded by the awarded Arabic-speaking pupils; Credit: EZZL
On Tuesday 27 September 2022, at the invitation of the non-profit organisation Eng Zukunft zu Lëtzebuerg (English: a future in Luxembourg), Luxembourg's Minister of Education, Children and Youth, Claude Meisch, presented eighteen refugee pupils with a prize recognising their efforts and excellent school results.
These young people aged fifteen to nineteen are Arabic-speaking refugees, most of whom had to flee the violence of the war in Syria.
The prize, initiated in 2021 by Eng Zukunft zu Lëtzebuerg, aims to encourage young people who have succeeded in overcoming the difficulties of integration, both linguistic and cultural. "Suddenly displaced in a world very far from that of their origins, marked by the traumas of exile, these young people have invested all their energy in their studies", commented Minister Meisch. "Their parents can be proud of it, they can be proud of themselves. I would like to thank Eng Zukunft zu Lëtzebuerg, for his continuous commitment in favour of Arabic-speaking refugees in Luxembourg and especially young people".
As a result of their efforts, all these young people have joined or will be able to join a regular class in the Luxembourg school system.
Each pupil received a solar-powered power bank as a gift, financed by André Losch Fondation.
Eng Zukunft zu Lëtzebuerg is dedicated to the integration of Arabic-speaking refugees in Luxembourg, by advising, informing and helping them in the different areas of their daily life. With the support of André Losch Fondation, it supports young people in their studies, encourages them to take part in leisure activities and provides them with a Syrian psychologist.
According to Luxembourg's Ministry of Education, Children and Youth, this type of action reflects the political will to better support the school integration of newly arrived pupils. This desire is reflected in the forthcoming establishment of a school integration and reception service (SIA), benefiting from its own legal basis and replacing the current Department for the Schooling of Foreign Children (SECAM) at the ministry. The SIA aims to provide long-term holistic care for pupils: it will no longer be their language skills alone that will be considered in their educational orientation, but all their skills and aspirations and their family's life plan. This restructuring of the reception of newly arrived pupils aims to help to reduce the impact of social or cultural origins on school performance and to enhance the personal background of pupils.