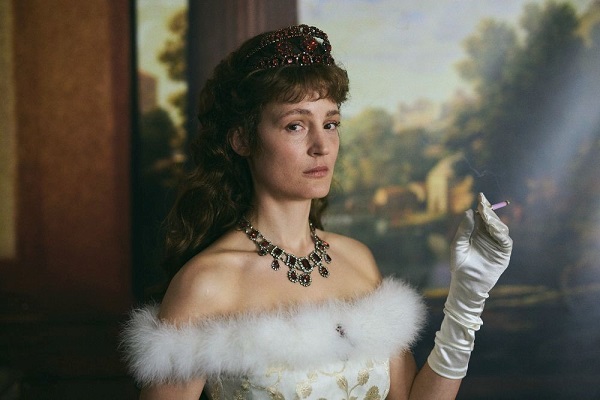 Vicky Krieps in Corsage; Credit: (c) Felix Vratny
Sama Film has announced that Luxembourgish actor Vicky Krieps has just been awarded the Heart of Sarajevo Award at the Sarajevo Film Festival, for her role of Empress Elisabeth in the film "Corsage" by Marie Kreutzer.
"Corsage" was selected and presented in the Competition of the Sarajevo Film Festival.
This is another recognition for the Luxemburgish actress, after having won the "Best Performance - Un Certain Regard" for the same role at the last Cannes Film Festival in May this year.
Produced by four countries (Austria, Luxembourg, Germany, and France), "Corsage" is directed by Austrian director and screenwriter Marie Kreutzer. "Corsage" is produced by Bernard Michaux for Samsa Film, together with FILM AG for Austria, Komplitzen Film for Germany and Kazak Productions for France. The television broadcasters ORF Film/Fernseh-Abkommen (AT), ZDF/ARTE (DE), ARTE Cinema and ARTE France also co-produced the film. The film was supported by the Film Fund Luxembourg.
The release of the film in Luxembourg is scheduled for 7 September 72022, and is set to be screened at Kinepolis Kirchberg, Ciné Utopia, Ciné Orion in Troisvierges, Ciné Prabbeli in Wiltz, Ciné Scala in Diekirch, Ciné Sura in Echternach, Kulturhuef Kino in Grevenmacher, Kinoler in Kahler, Ciné Le Paris in Bettembourg and Ciné Starlight in Dudelange.