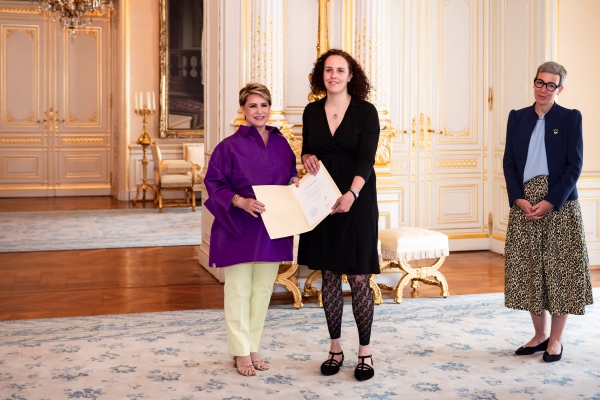 (L-R) Her Royal Highness the Grand Duchess, Catherine Lorent, Sam Tanson; Credit: © Maison du Grand-Duc, all rights reserved
On Monday 20 June 2022, Her Royal Highness the Grand Duchess awarded the Prix Grand-Duc Adolphe 2021 to Catherine Lorent for her work "7 fantastic views of the sea".
The chosen work by Catherine Lorent called "7 fantastic views of the sea" demonstrates the singular universe of the artist who mixes the most varied references and aesthetics: art history and popular culture, societal criticism and theatricality, irony and sweetness. With humour, the work brings together within a coat of arms on the scale of a landscape, seven views of the sea, each referring to different artistic references, including in particular Hokusai and Van Gogh. The artist revisits a work begun in 2004 and combines various techniques: drawing, watercolor and pastel to form a phantasmagorical universe. The members of the jury notably noted the artist's quirky view of contemporary society and more particularly of the consumption of images. They are delighted with the evolution of the artist's work since Ms Lorent was awarded the "Prix Révélation" of the CAL in 2011.
The prize ceremony was held in the presence of the Minister of Culture, Sam Tanson, as well as the secretary general of the Cercle Artistique de Luxembourg (CAL), Satu Corke.
The Prix Grand-Duc Adolphe is traditionally awarded at a biennial ceremony which takes place at the Palais Grand-Ducal following a selection process organised as part of the "Salon du Cercle Artistique de Luxembourg".