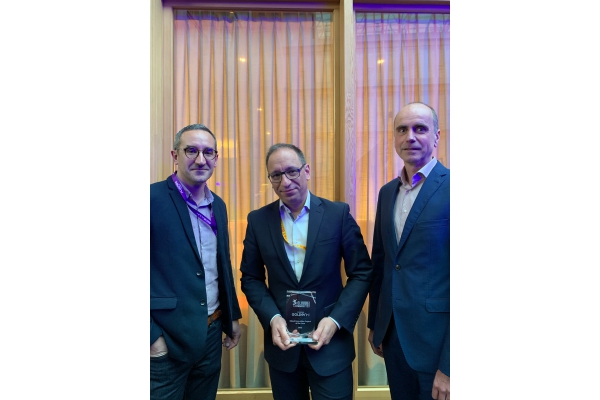 Credit: CCEL
On Thursday 5 May 2022, the Cloud Community Europe – Luxembourg, organisers of the Luxembourg Cloud Awards, announced the winners of the 2022 edition during the Golden-i Gala at the PwC Crystal Parc Building.
This year, the "Cloud Innovation Project of the Year" category has been under the spotlight and three projects were distinguished by the jury:
Advanzia Bank, for the "Omni-Channel UX: Accelerating Business Growth Through Cloud" project, implementing a scalable cloud-native digital platform providing unified, omni-channel touchpoints for customers across Europe;
Clearstream, for the "Clearstream Data Layer" project, implementing a new infrastructure for big data handling;
Husky Technologies, for the "Advantage+Elite™ We Call You" project, providing new service 24/7 based on cloud platform that monitors, reacts, and adapt to maintain performance along the life.
The winner of the Luxembourg Cloud Awards 2022 went to Husky Technologies.
"This edition is very encouraging: it demonstrates, through all the quality projects submitted, how mature the cloud has become and how organizations, regardless of their core business, have taken advantage of it.", explained Nicolas Sanitas, Senior Advisor and Digital Community Coordinator at Luxinnovation, and Armin Neises, CEO of Waves, winner of the "Cloud Tech Innovator" award in 2021, both Co-Chairmen of the jury.
The recognition is given to a project where Cloud solutions are transforming the agility of the business. The achievements may be relative to cost structure optimisation of the technology investment, the agility and the flexibility in scale and/or in time to go in production with an IT project or the complexity solved, and the maturity gained in best practices including availability and security. The Cloud Innovation Project goes to a realisation that creates value and makes impact. A further focus is given by the Go to Market Realisation and the provided functionality offered through cloud resources. Of course, the provided services need to comply with the requirements regarding data security and data privacy in relation to customers data sensitivity and compliance.
"It was important to the jury to see pragmatic and innovative applications in the cloud. What Husky showed with their solution Advantage+Elite™ and thus convinced the jury was this level of transparency, proactivity and predictiveness. This is a highly useful application that demonstrates what cloud technology can be used for with a direct positive impact on their own customers.", said Armin Neises.
"Without taking away from the quality of the other two awardees, the platform designed by Husky shows us in the most tangible and concrete way all the business value that a cloud approach can bring. With this project, Jean-Christophe Witz and his team, are showing the way to the country's manufacturing companies: the 100 customers connected to the fully operational and secure solution are proof that the cloud is today an almost unavoidable tool for the digitization of the industry.", added Nicolas Sanitas.