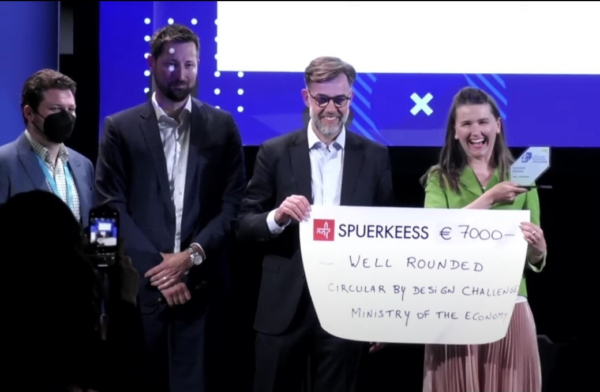 Credit: Luxinnovation
On Thursday 21 April 2022, on the occasion of World Creativity and Innovation Day, the winners of the second edition of Circular by Design Challenge were announced at a hybrid ceremony at LuxExpoTheBox in Luxembourg-Kirchberg, in the presence of Luxembourg's Minister of Economy, Franz Fayot.
The Circular by Design Challenge, launched in October 2020, is an initiative of the Luxembourg Creative Industries Cluster of Luxinnovation, and supported by the Ministry of the Economy. The programme aims to enable the development of new design solutions and innovative business models that are in line with the principles of sustainability and the circular economy.
This year, the Circular by Design Challenge was open not only to Luxembourg, but also to European projects. In total 68 projects from 19 countries were received. The best projects were selected by an independent and international jury headed by Prof Martin Charter at the end of December 2021 and the project owners were invited to join the coaching programme.
Since the beginning of 2022, fourteen short-listed participants followed the twelve-week coaching programme and worked on developing their projects with the support of specialised coaches with regular feedback from a steering committee consisting of experts from various backgrounds.
In his short welcome note, Minister Fayot said that it is now needed more than ever to find new and innovative ways to produce with less resources and less energy used. He underscored the special emphasis given on extensive use of new technologies and ICT in innovative solutions for this year's Circular by Design Challenge winning projects. He noted "On regular intervals the IPCC and other experts remind us how real and how urgent the climate crisis and also the biodiversity crisis is".
Underlining the importance of the Circular by Design Challenge, Minister Fayot added "You all know that we have a strategy for the circular economy which has been adopted by the government of Luxembourg two years ago and these awards, what we are celebrating here today, are very central piece of that strategy".
Karsten Bleymehl, Co-founder & CEO of Circular Materials and the keynote speaker at the ceremony, shared his early interests and innovations in circular economy. He introduced his first project, which he developed during his student days, of collapsible arm-chairs, made entirely out of recyclable paper.
Next he mentioned that, in Germany where Mr Bleymehl is located, they are collecting nearly 150 trucks of unwanted clothes per day. The fibres from these unwanted clothes are then separated and made into "pellets" which are then injected in to moulding machines to make cloth-hangers, thus recycling the materials for the fashion industry.
For a third and final project that Mr Bleymehl introduced, he remarked that it was a challenge to recycle 100,000 shampoo bottles that a cosmetics company are not allowed to re-use. Instead of giving the bottles to recycling centres, Mr Bleymehl's company recycled them to make 60,000 boxes for a solid shampoo from the same cosmetics company, to be distributed at the pharmacies in Germany as free gifts / give-aways.
He elaborated that currently only 8.6% of products are circular, and therefore there is strong need to find innovative ways to increase the use of circular materials flow to reuse and recycle.
The selected projects (alphabetically) in the following five categories are:
Fashion Design (4 nominees)
- RubyMoon
- Repair Rebels
- Uthentic
- Well Rounded (Winner); Switzerland
Industry 4.0/Mobility (2 nominees)
- Green Earth Trading
- Greenpixel (Winner); Finland
Sustainable Cities (3 nominees)
- on.perfekt (Winner); Luxembourg
- Sorgi-Lux
- Wasch
LuXembourg – Lets make it happen (3 nominees)
- Colors of Luxembourg
- Multi-purpose balm (Special Prize from Ministry of Foreign Affairs)
- RF Cocoon (Winner); Luxembourg
Youth category (1 nominee)
- Pop up Pod (Winner); Luxembourg
Each winning project received a prize of €7,000, participation in an additional four-week virtual international accelerator programme provided by US accelerator gener8tor and six months of free access to co-working office space in Luxembourg.
The winning projects will have further possibility to gain partnership deals with industry partners in order to jointly implement and produce their ideas.