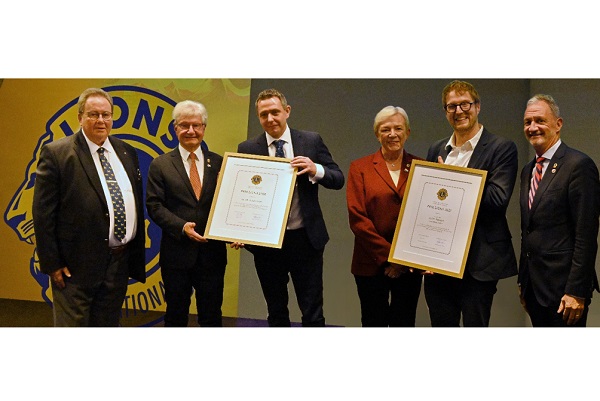 L-R: Jean-Claude Koenig (jury spokesman); Nico Bley (2019/20 governor); Pr. Dr. Alain Kohl, winner of Prix Lions 2020; Marie-Jeanne Gieres (2020/21 governor); Joseph Rodesch, winner of Prix Lions 2021; Marc Hemmerling (2021/22 governor); Credit: Franz Zuidberg
Lions Club Luxembourg has awarded its "Prix Lions" to Prof. Dr. Alain Kohl (for the year 2020) and Joseph Rodesch (for 2021).
Around 100 guests gathered at the Jean Krier auditorium of the Banque Internationale in Luxembourg (BIL) on the occasion of this awards ceremony.
The organisers decided to combine the awarding of the 2020 and 2021 prizes due to the COVID-19 pandemic.
Marc Hemmerling, the Governor of District 113 (Luxembourg) of Lions Club International, recently presented Prof. Dr. Alain Kohl with the "Prix Lions 2020" and Joseph Rodesch (alias "Mister Science") with the "Prix Lions 2021". Each prize is endowed with €10,000.
The 2020 winner, Prof. Dr. Kohl, is a researcher who is appreciated worldwide for his pioneering work in modern virology in general and arbovirology in particular.
This year's winner, Joseph Rodesch, or "Mister Science", was distinguished for his merits within the framework of the popularisation of scientific phenomena and the involvement of young people in his practical work as well as for his facilities in the communication of scientific mechanisms.
The two laureates thanked Lions Clubs International for this distinction, which they each dedicated to their respective teams.
Lions Club International is an international non-political service organisation. As of January 2020, it had more than 1.4 million members in around 46,000 local clubs in more than 200 countries and geographical areas around the world.