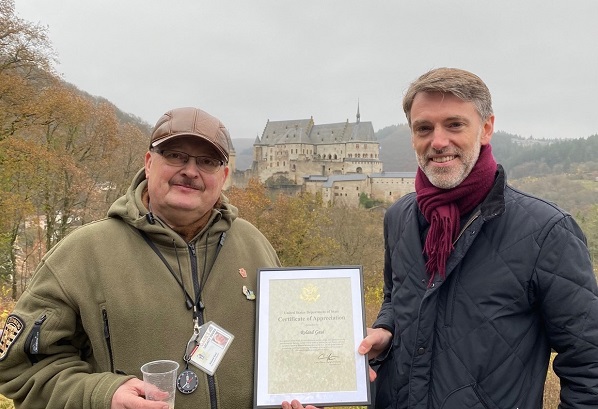 L-R: Roland Gaul; Casey Mace, US Chargé d'Affaires a.i.; Credit: US Embassy Luxembourg
The US Embassy Luxembourg recently presented Luxembourg historian Roland Gaul with an award for his dedication and service.
Following a tour given to US Embassy staff on the history and path of Luxembourg's liberation during the Second World War, US Chargé d'Affaires a.i. Casey Mace presented Roland Gaul, a pre-eminent historian and tour guide of Gaul's Legacy Tours, founder of the National Museum of Military in Diekirch and former Embassy Protocol Assistant, an award on behalf of the US Embassy Luxembourg.
The award reads: "In recognition of and thanks for your dedication, passion, energy, and expertise in serving and advising the Embassy and the United States of America for over 30 years, and your exemplary support of bilateral relations between the U.S. and the Grand Duchy of Luxembourg, particularly in preserving the memory of the sacrifices of U.S. troops in liberating Luxembourg during World War II".
A native of Luxembourg, Roland Gaul grew up in the Ardennes. Since his childhood, he has collected WWII relics and has interviewed countless US and German veterans who fought in Luxembourg during the Second World War.