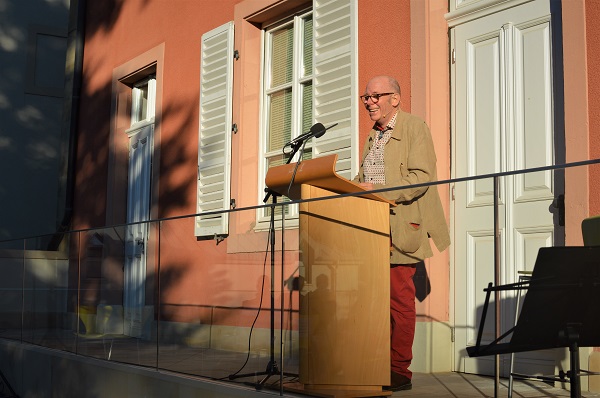 Pierre Joris; Credit: MCULT
Luxembourg-American poet Pierre Joris has been awarded the 2020 Batty Weber Prize (Prix Batty Weber).
During a ceremony held at the National Literature Centre (Centre national de littérature - CNL) in Mersch on Tuesday evening, Luxembourg's Minister of Culture, Sam Tanson, presented the 2020 Batty Weber Prize to Pierre Joris for all of his work.
The Culture Minister noted: "Pierre Joris represents a life in books and with books, in languages ​​and with languages. I am happy to present this prize to the reader, poet, essayist and translator - the friend of words Pierre Joris".
Born in 1946 in Strasbourg, France and raised in the town of Ettelbruck, Luxembourg, Pierre Joris currently lives and works in New York, but defines himself as a nomad travelling between languages. An author, poet, performer and translator (notably of Paul Celan's works), he writes mainly in English, but also works through "linguistic collages". The life and language of Pierre Joris are "a geo-biography", according to the winner of the evening, Luxembourg writer Jean Portante, who continued: "There are no roots, but propagation, spread, there is no verticality, but horizontality. There is, and it is a central word to understand your writing, rhizome".
The jury, composed of Claude D. Conter (president), Vesna Andonovic, Anne Diderich, Fabienne Gilbertz, Frank Hoffmann, Luc Marteling and Sébastian Thiltges, wanted to distinguish "a crossover artist, a theorist of nomad art, a wordsmith and an optimistic utopian, who believes in the magic of language and who invigorates it - in times of rising nationalisms, Joris responds to insularity with the affirmation of mutual respect and dialogue". The decision was taken in April 2020, but transatlantic travel restrictions and health measures meant that Pierre Joris could only travel to Luxembourg this summer. During the evening, Pierre Joris, his wife, artist Nicole Payrafitte, and violinist Pascal Delalée jointly performed texts by Mr Joris.
The poet summarised in his speech: "All writing, all poetry is a trek toward language, our other, the station, the staying in our passage through time. I am a space traveller trying to write myself into an oasis corner, an amen corner as I circumambulate the polis of my life span, stopping here and there".
The Batty Weber Prize was created in 1987 and rewards a Luxembourg writer every three years for the literary quality, originality and cultural influence of their complete work. This national prize for Luxembourg literature is endowed with €10,000.