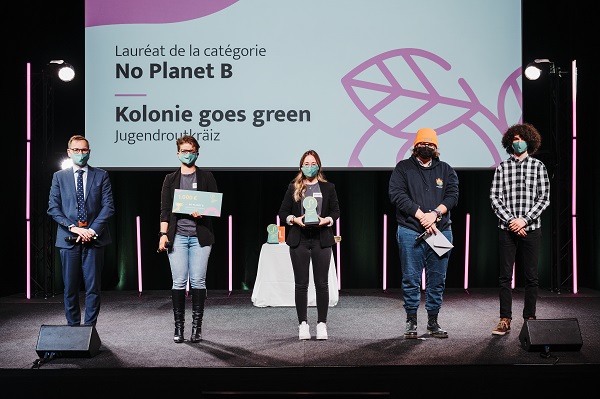 Jugendroutkräiz, winners of the No Planet B category, with their winning project "Kolonie goes green"; Credit: SNJ
Last Thursday saw the 2021 "Jugendpräis" (youth prize) award ceremony take place at the Geesseknäppchen Forum, in line with the sanitary measures in place.
Every two years, the National Youth Service (Service national de la jeunesse - SNJ) organises the Jugendpräis with the aim of offering a platform for promoting youth projects and thus enhancing the commitment, dedication and know-how of everyone involved in the implementation of these projects.
A total of 46 applications were submitted for this fourth edition. After a preselection by an online jury, three projects per category were nominated to be presented to a second jury composed of four experts. The latter then had the task of selecting the winners in six different categories:
- Go Digital: Luxembourg Tech School with the project "Creative coding for all"
- No Planet B: Jugendroutkräiz with the project "Kolonie goes green"
- Best youthwork in town: Jugendtreff Norden with the project "Heated Emotions"
- Making waves: Graffiti, d'Jugendsendungen um Radio ARA with the project "Méi wéi Sex - De Podcast fir all Mënsch mat engem Kierper"
- We are the world: Jugendhaus Ettelbréck with the project "Projet Rumänien"
- Peer to peer: Escher Jugendhaus with the project "Big L on the road"
The special prizes, namely the public prize and the "Corona" special prize were awarded to the "All Dag eng BA" project of the Scouting in Luxembourg organisation, which brings together the two federations of scouts in Luxembourg, the FNEL and the LGS.
The next edition of the Jugendpräis is scheduled for 2023.