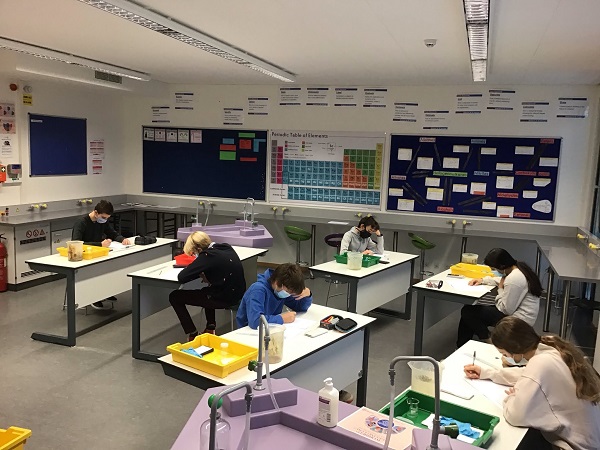 2020 eliminator; Credit: St. Georges International School, Luxembourg
For the second consecutive year, St. George's International School in Luxembourg has won the Royal Society of Chemistry (RSC) Belgium's Top of the Bench (TOTB) competition.
Despite the challenges and restrictions related to COVID-19, RSC Belgium successfully organised and ran its annual "international eliminator" for the Royal Society of Chemistry's TOTB competition in 2020.
This year, the competition was run remotely during late November and early December 2020 with the results evaluated over the Christmas holiday period. The winning team, who will now represent Belgium in the TOTB grand final in March 2021, was Team Phosphorus from St. Georges International School in Luxembourg. The school therefore retains the Keith Price Cup as its Team Sulfur was Belgium's TOTB winners in 2019.
The 2020 TOTB eliminator retained the usual elements of the competition: a written test component for individual team members and a practical group exercise. As usual, the questions were set by RSC committee member Rita Woodward.
TOTB teams need to be composed of four students with two students from Year 9 (UK equivalent to 3rd year or Grade 8), one student from Year 10 (4th year or Grade 9) and one student from Year 11 (5th year or Grade 10). With COVID-19 restrictions / bubbles, this added an extra complication to the event.
The competition itself was managed remotely by the participating schools and consisted of a Multiple-Choice "Written" Section, with questions and marking schemes tailored to the three age groups that was delivered in an appropriate "timed" manner at the schools and a practical element with input from all four team members. The practical task for 2020 was to construct a calibration graph and use it to determine the percentage of baking soda (bicarbonate of soda) present in a commercially produced baking powder. Practical kits were sent to participating schools.
In the end, four teams from two schools were able to complete and return a full set of results for evaluation. The participating teams were teams Barium and Nitrogen from the International School of Flanders (ISF) in Waterloo and teams Magnesium and Phosphorus from St. George's International School in Luxembourg.
The competition was close but the overall winner (ranked first in the practical test and second in the written test) was the Phosphorus team from Luxembourg.