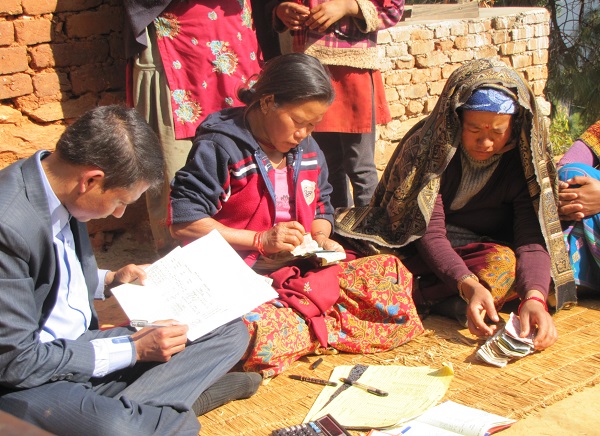 EMA 2020 winner: Muktinath Bikas Bank Ltd.; Credit: European Microfinance Award
Muktinath Bikas Bank Ltd. has received the 2020 European Microfinance Award, organised in and by Luxembourg, for encouraging savings in Nepal.
The Nepal-based bank was awarded this year's European Microfinance Award "Encouraging Effective & Inclusive Savings" during a live streamed ceremony on Thursday afternoon. This prestigious annual award rewards inclusive finance initiatives. Her Royal Highness the Grand Duchess of Luxembourg and the Minister for Development Cooperation and Humanitarian Affairs, Franz Fayot, attended this virtual ceremony.
Banks' traditional activities include the collection of savings, the distribution of loans and the provision of means of payment. Credit products (also known as micro-credit solutions) were the first products to be developed in inclusive finance. Being more lucrative for the service provider, loans have long been the only type of product offered by banks. Yet, savings products also carry many advantages. For vulnerable, excluded and low-income populations, savings help secure a source of income and help them cope with setbacks and other unforeseen events. For these target populations, savings facilitate some level of empowerment by offering a safer (and more reassuring) way to manage their finances over the long term. The risks are minimal for the service provider, as savings offer a guarantee. Aware of these benefits, some financial and non-financial service providers have set up savings programmes alongside their traditional activities.
This year's European Microfinance Award winner, Muktinath Bikas Bank Ltd., serves low-income households and women in rural areas in Nepal and has set up a special department dedicated entirely to that target population. It has tailored a collective and solidarity savings model specifically for these customers, with doorstep collections. The products it distributes include retirement savings plans, insurance plans and savings schemes specifically for migrant workers and the families they have left behind in Nepal. Muktinath has also developed financial education and household budget training through dramas and a purpose-made film entitled "Paribartan" (which means "transformation" in English).
Savings are an essential part of the effort to use inclusive finance as a tool for poverty reduction. This has become all the more crucial in the context of the current COVID-19 crisis. In her speech, the Grand Duchess, who served as President of the European Microfinance Award's High Jury, stressed: "Microfinance institutions do extraordinary work. They have designed amazing and vital savings solutions to avert the risk of millions of vulnerable people falling into extreme poverty, as they face the unprecedented upheaval we are currently seeing. The savings theme is particularly pertinent this year as it promotes self-reliance, offers safe solutions, encourages development and provides the means, particularly for women, to become the architects of change. With this in mind, I would like to congratulate the three finalists for their inspiring initiatives!"
Through the European Microfinance Award, Muktinath Bikas Bank received €100,000 from Luxembourg's Directorate for Development Cooperation and Humanitarian Affairs. Minister Franz Fayot commented: "During this year, saving has been essential in building resilience among millions of people. Families and businesses have faced financial pressures due to the disruption of economic activities. In these difficult times, inclusive savings can mitigate the impact of the pandemic. I am confident that this year's European Microfinance Award will draw attention to the value of savings as a vital financial service, and create momentum that will encourage its use, especially for the empowerment of women".
Launched in 2005, the European Microfinance Award is jointly organised by Luxembourg-based European Microfinance Platform (e-MFP), the Inclusive Finance Network (InFiNe) Luxembourg and the Directorate for Development Cooperation and Humanitarian Affairs.
The other two finalists for the 2020 European Microfinance Award were Buusaa Gonofaa Microfinance (BG), an Ethiopian microfinance institution (MFI), and RENACA-Bénin, a union of cooperatives in Benin which mainly targets low income and vulnerable populations in rural areas.