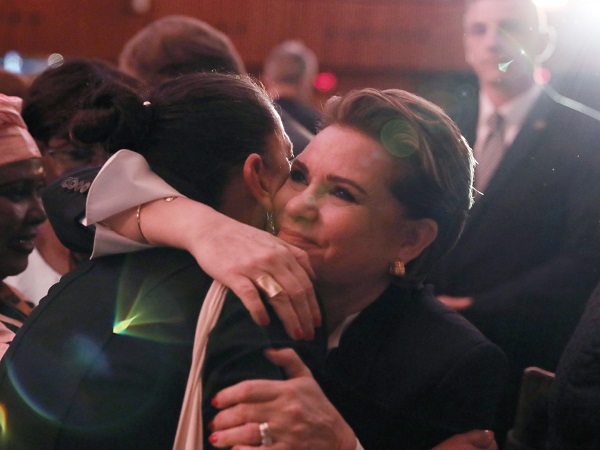 HRH the Grand Duchess at the SSRU Conference in March 2019; Credit: SSRU / SIPA
Her Royal Highness the Grand Duchess Maria Teresa of Luxembourg, Founding President of the Stand Speak Rise Up! (SSRU) association, will chair the jury of the 7th edition of the "Prix de la Femme d'Influence".
During the confinement period, the Grand Duchess helped support the sick, caregivers and people who survived coronavirus, particularly through support actions. She also helped fund emergency projects and health aid to survivors of war rape, a cause for which she has fought for many years.
The Grand Duchess will now chair the first jury dinner, taking place on Tuesday 15 September in Paris and which will be the opportunity to choose the nominees for 2020. She will be joined on the jury by Julie Gayet, Dr Philippe Juvin, Ilham Kadri, Yannick Alleno, Laurence des Cars, Stéphane Sejourné, Mercedes Erra and Sarah Ourahmoune, to name but a few.
For this exceptional year, the Prix de la Femme d'Influence will reward women who have distinguished themselves in the fight against COVID-19 through acts of solidarity and courageous commitments in each of the categories: Political, Economic, Cultural and "Coup de cœur".