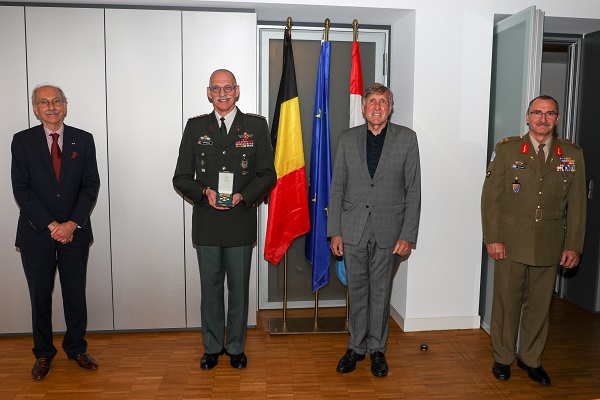 L-R: Jean-Louis Six, Belgian Ambassador to Luxembourg; General Marc Compernol, Belgian Chief of Defence; François Bausch, Luxembourg's Minister of Defence; General Alain Duschène, Luxembourg's Chief of Defence; Credit: EMA
On Wednesday 17 June 2020, Luxembourg's Minister of Defence François Bausch presented the insignia of the Commander of the Order of the Oak Crown to Belgian Chief of Defence General Marc Compernol.
In his speech, Minister François Bausch highlighted the excellence of Belgian-Luxembourg cooperation and expressed Luxembourg's gratitude to Belgium for its support provided in many areas of defence.
The Order of the Oak Crown (Ordre de la Couronne de chêne) is an order of the Grand Duchy of Luxembourg established in 1841. At present, the order consists of five grades, the third of which is Commander. The Grand Duke of Luxembourg remains the Grand Master of the order.