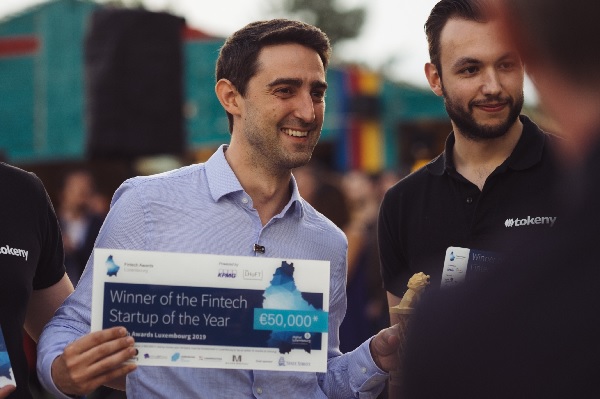 Winner: Tokeny; Credit: KPMG
The winner of this year's Fintech Awards Luxembourg is Tokeny, a fintech startup from Luxembourg in alternative finance.
The fourth edition of the competition was held on 19 June 2019 at KPMG Luxembourg's headquarters. Out of 194 initial applicants to the Awards, which spanned more than 30 countries, 20 semi-finalists were invited to Luxembourg to compete at the event. Of these, eight were Regtech startups, showing the continuing demand for regulatory services, while insurtech, wealth management, robo-advisors and other sub-sectors were also represented.
On this occasion, Pascal Denis, Chair of the jury and Head of Advisory at KPMG Luxembourg, discussed the importance of maturing technology in the current fintech scene: "In an area as rapidly evolving as fintech, startups need to be agile and resolute in their commitment to developing trusted cutting-edge technology. Our crop of startups this year perfectly exemplified this mindset and their technical knowledge, innovative methodologies and entrepreneurial spirit truly inspired us as a jury".
Pascal Denis was joined by six other jurists: Frederic Becker, Fintech advisor at the Ministry of Economy; Ghela Boskovich, Head of Fintech/Regtech Partnerships at Rainmaking Innovation; Cristina Ferreira, Head Regulatory Solutions & Innovation at State Street; Luc Frieden, Lawyer at Elvinger Hoss and former Finance Minister of Luxembourg; Pedro Penedo, Partner at KPMG Portugal and Member of the Global Lighthouse Leadership Team; Nasir Zubairi, CEO of the LHoFT.
After an hour of deliberation, the jury awarded Tokeny first prize as Fintech Startup of the Year. The prize included €50,000 in startup money, a free LHoFT membership (plus three months' hosting) and ten hours' free consulting from KPMG. Tokeny was followed by first and second runners-up OKO (Israel), which won five months' hosting at the Technoport in Luxembourg, and Uniken (USA), which won an advertisement by Maison Moderne. The Lighthouse Award, given to the startup that best harnesses data-driven technology, went to DreamQuark (France) for its use of artificial intelligence. DreamQuark won ten hours of KPMG consulting.
Nasir Zubairi, CEO of the Luxembourg House of Financial Technology, commented: "To choose the winner was a difficult process, but we are thrilled to see two LHoFT residents Tokeny and OKO who received the top prizes, demonstrating how local Luxembourg solutions are becoming more robust and relevant".
The Fintech Awards represents a coming together of the most important parties of Luxembourg's ecosystem, including the government, established financial firms and advisors, as well as the startups themselves.